Movie Review: Little Dorrit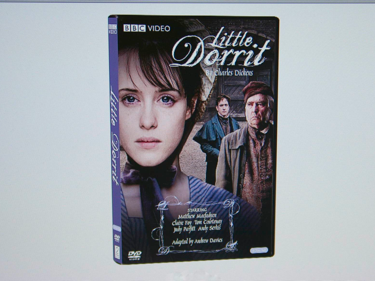 We enjoyed this production of Charles Dickens' Little Dorrit immensely, watching it in series on Sunday evenings on PBS Masterpiece Theater. We give it five stars.
Amy Dorrit, brought up her whole life in debtor's prison, where she cared for her father who has been the longest inmate there, was played exceptionally well by Claire Foy. Arthur Clennam, played expertly by Matthew Mcfayden, was also wonderful. He became aware of a family secret on his father's death bed and in attempting to unravel it, became involved with "Little Dorrit." Also critical to the story was the prison's assistant turn-key — John Chivery — played very well by Russell Tovey, who was so earnest and convincingly in love with Amy it was almost painful. Both Arthur Clennam and John Chivery changed the fate of Mr. Dorrit in turn, and looked out for Amy's welfare. All three of these central characters were so uncommonly good, it was a real pleasure to watch the unfolding proceedings regarding them.
To contrast them, there were plenty of unusual (Dickens style) characters intertwined in the story, including a murderous scoundrel. There were so many vivid characters in fact, both absurdly rich and excruciatingly poor, that half way through the story it was hard to tell where all of this was headed. Fortunes were won and lost multiple times, and secrets eventually are revealed to end the story quite happily, while a little too abruptly for my taste, since I wished to savor it more.
We sat for a while after the movie, sorting out details and discussing what we had thought would happen compared to what did. It was such a satisfying experience we'd love to see it again, seeing the whole six hours continuously next time. And now my oldest daughter is begging for the book; she desperately wants to read it!