Book Review: 100 Ways To Simplify Your Life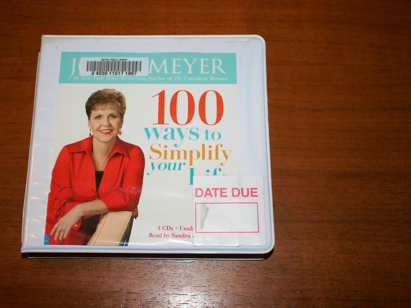 I really liked this book and give it five stars. I applaud her simple, no nonsense style and straight forward, practical approach. There are so many books on clearing clutter and getting organized that miss many of the important underlying issues that need to be addressed. This book hits on those and deals with them squarely. Joyce comes from a decidedly Biblical perspective which is at once charitable and forceful.
I listened to this in the car, but it would have been much better in print. It is sprinkled liberally with Bible references which would have been reinforcing to be able to look up as you made your way through this material. There are also some great quotes in here worthy of savoring and pondering, both those of other people at the heading of each of the 100 chapters, but also of Joyce's unabashed turn of phrase.
Here is a sampling of her recommended ways to simplify your life:
Do one thing at a time

Be satisfied with what you have

Keep God first

Learn to say no

Be yourself (don't try to be somebody else)

Refuse to start what you cannot finish

Get your mind off yourself

Be quick to forgive

Mind your own business

Think before you speak

Don't receive condemnation

Don't be afraid of what other people think

Count the cost before you commit

Trust God to change other people

Don't have a false sense of responsibility

Give up control (to God)

Pray before you have an emergency

Keep your conscience clear

Don't be easily offended

Become like a little child

Let discipline be your friend
Many of her ways to simplify warrant a whole book of their own instead of just a cursory chapter, but this overview engages the reader in realizing the myriad ways our lives are unnecessarily complicated, coupled with initial suggestions of alternative choices. It also highlights the fact that most of the needed changes are largely internal and spiritual rather than merely the external or material ones so often discussed.
I enjoyed Joyce's frank, unvarnished expression. She's written lots of books, so I look forward to reading something else by her in the future.