Welcome Home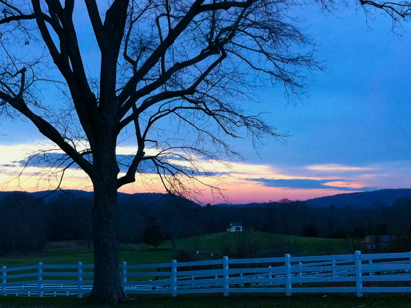 It has been several years since we've all been home for Thanksgiving. It's not just that I picked my daughter up at the airport yesterday, it's that I'm home too. Not only have I been flying away on many Thanksgivings to my parents, last year my college kid didn't come home for the holiday. And this year, I've been gone a lot in the last six months and I have just now finally returned to remain in one place for a while. Barring unforeseen circumstances, I'm physically going nowhere until touring colleges in the spring with my son. Last June, I was antsy to go somewhere (anywhere!) and how it feels like a total relief to be home.
These photos here were taken yesterday as I sat praying and reading and studying while I waited for my youngest daughter to finish planting the garlic at New Pond Farm. It was an ordinary moment of my ordinary life, made extraordinary by a glorious sunset, and also by the realization that the everyday moments we all experience can be the most precious. We just need to stop and notice. We need not to take so much for granted.
This year, I'm grateful for so much I could bore you with exceedingly long lists of blessings. But instead, I just want to say, I'm cherishing being home, and back to my daily life, which regularly bursts and glows with goodness like this unexpected sunset.
God is good. And it doesn't get better than that.