Tristan's Painting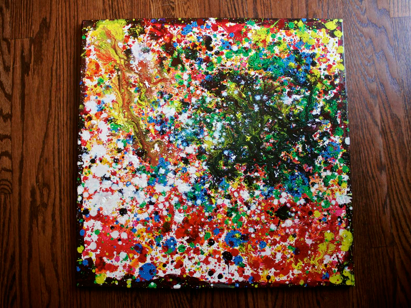 Last spring, I had an art day with a six year old friend of mine named Tristan, while his mother helped his sister and my daughter on an important team project. I set up a plastic table cloth in the driveway and Tristan and I enjoyed each other and the beautiful day by throwing paint around. I did my own canvas, which still stands unfinished on my side porch, for watching Tristan work was riveting enough to be sure. Posted here, is his painting.
This is one kid that moves a lot, and he's very comfortable with risks. His last step was pouring on the black before other colors had dried, which I admit I was dubious about, but we both agreed later that it makes the painting, although thankfully, he went light on it in deference to my doubts and concerns. Even though he ran circles around this painting and had to be reminded to wash his brush every time, he remained surprisingly focused for quite a long time on this. We both were thrilled with the result.
We did a lot of talking during this as well, about what effect which color had on which, what color should go next, whether it should be thick or thin, mixed or pure. But we talked about everything else under the sun too. I told him about Jackson Pollack, he told me about Indiana Jones. (This is much more of an Indiana Jones painting than a Jackson Pollock one!) This painting encapsulates a memory of a happy day together that we both treasure.
When I saw him today, I got him to pose with his painting so I could share it with you all. Here is the exuberant artistic expression of a bold six year old artist – turned seven in the interim, now no longer missing his two front teeth. Yesterday I quoted Pablo Picasso, "Every child is an artist. The problem is how to remain an artist once he grows up." I hope all kids remember that place within themselves, and I believe giving them the chance to really own that while children helps.
Don't you just love it?