Recipe: Caramelized Butternut Squash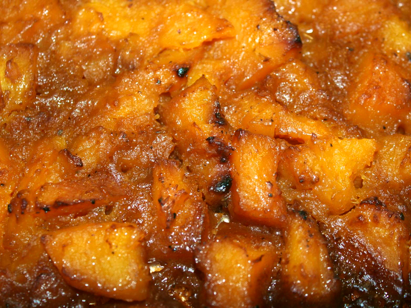 We love this. It is perfect for Thanksgiving or any fall or winter plate. The recipe originally came from the Barefoot Contessa Cookbook…
Caramelized Butternut Squash recipe
2 medium butternut squash (4 to 5 pounds total)
6 tablespoons butter
1/4 cup light brown sugar, packed
1 1/2 teaspoons salt
1/2 teaspoon freshly ground black pepper
Preheat oven to 400˚F.
Cut off and discard the ends of each butternut squash. Peel the squash, cut them in half lengthwise, and remove the seeds. Cut the squash into one inch cubes and place then in a large pyrex pan or baking sheet. Add the melted butter, brown sugar, salt and pepper. Toss all the ingredients together with clean hands. Spread in a single layer in the pan. Roast for 45 to 55 minutes, until the squash is tender and the glaze begins to caramelize. While roasting, turn a few times with a spatula, to be sure it browns evenly. You can mash it a bit while it is cooking if you wish. Taste for seasonings and serve hot.
This also keeps well in the refrigerator for quick yummy leftovers, which is why I made a double batch below.
Enjoy!