Book Review: The Joy Diet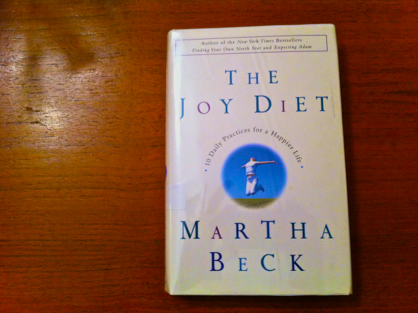 I really liked this self-help book written by the foremost "life coach" in the country. By taking in this book, you receive what she charges big money to offer to her clients. And this is spot-on good stuff that I agree with. She offers a ten step plan to bringing more joy into your life – a plan both solid and workable, meriting not only application but rereading.
The ten steps are:
15 minutes of quiet time every day

Absorb at least one moment of truth each day

Each day, identify, articulate, and explore at least one of your heart's desires.

Increase your range of creativity daily.

Each day, do at least one frightening thing that contributes to the fulfillment of your desires.

Everyday, give yourself at least three good treats.

Commit to playing wholeheartedly.

Everyday, make sure you laugh at least 30 times.

Each day connect with at least one person who is important in your life.

Create a context of celebration, nourishment and gratitude!
She says:
"Remind yourself that your real career consists of the changes you wish to make in the world and the experiences you want your life to have before it is over."
"Cultivate both/and thinking instead of either/or…"
"Think of yourself as someone who doesn't just want what you want, but is going to get it."
"Believe that you can form your life around the fulfillment of your desires.
For more joy in your life, read and imbibe the practical wisdom in this five star book! See more teasers below…
here.