Yellow Gazpacho (Recipe)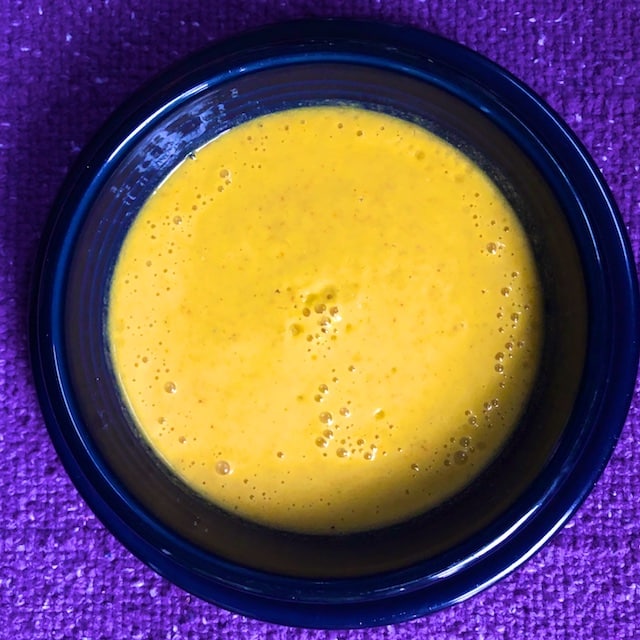 This is fabulously delicious and oh so easy. And of course you can make it red with red tomatoes and red peppers. It is perfect for this time of year.
I prefer my gazpacho smooth rather than chunky, and not particularly spicy. I feel this way you taste the essence of this seasonal produce better.
This makes 4-6 servings, and the leftovers keep a few days in the fridge. It is great as a side dish, or as an appetizer, or a snack.
Yellow Gazpacho Recipe
1 pound (approx 2 large or three medium) ripe tomatoes (yellow for yellow soup, or red for it to be red soup)
2 cloves of garlic, peeled and smashed
1 cup of torn bread
1 english cucumber, peeled (or 2 cups of seeded, peeled other cucumber)
2 bell peppers, seeded and roughly chopped (yellow for yellow soup, or red for red soup)
1 Tablespoon jalapeno, seeded
2 Tablespoons fresh flat leaf parsley
1/4 cup good olive oil
1 Tablespoon champagne vinegar
Sea salt
freshly ground pepper
Place the tomatoes and garlic in a food processor or high speed blender and process until smooth. Add the bread to this mixture, pulse a bit, and then let it sit and soften for a few minutes, before processing that smooth.
Add the cucumber, bell pepper, jalapeno, parsley and olive oil. Blend on high until very smooth. While the motor is running, drizzle in the vinegar. Season with salt or pepper.
Serve immediately.