The Foolishness of Rejecting Our Own Gifted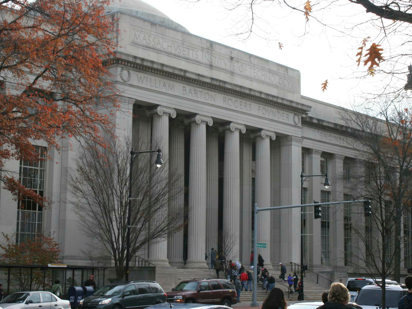 On April Fools Day in this country high school seniors find out where they have been accepted for college. Usually the acceptances come in earlier, so by the time April Fools Day comes around it is often bad news, which then just reads like a cruel joke.
I have been through this process twice as a homeschooling parent. A year from now I will be done with going through it for the last time with our youngest. I would like to preface what I have to say here with the fact that neither of our oldest two got into their first choice schools even though they were strong candidates. Fortunately both were resilient, and have been exceedingly happy and grateful that they went where did.
But I want to talk today about our friend Alex. He's the smartest kid my kids know. Eager and enthusiastic about learning, and with his IQ testing as somewhere in the upper stratosphere, his parents researched their options for satisfying his voracious academic appetite.
Since Alex was a very social only child, they did not choose to homeschool him, but instead they settled on moving to an area specifically for a top ranked gifted school that admitted only students with exceptional IQ's. This arrangement was a stretch for this family because it meant that they spent years on skype with a husband and father working elsewhere.
But it was worth it. Alex blossomed into the wonderful young man we know. Many times I tried not to covet the offerings at his school that are hard to duplicate as a homeschooler. There is nothing like their program offered in most states including mine.
We first met Alex when he was in the 5th grade. He was already specifically interested in Chemistry. He even had a periodic table on his shower curtain. But apparently his passion for the subject predated elementary school. His working knowledge of the topic was good then but it quickly surpassed my own. For recreation at bedtime he grew up reading the Chemistry textbooks his Oxford educated grandfather had written. He read magazines for professional Chemists, and focused in great detail on the topic.
He took multiple Calculus courses in high school, and many AP's, doing well on them all. He interned in labs and taught others Chemistry. He started a Chemistry club at his school, and at my kid's insistence, joined his Robotics team. He was on many academic teams that, of course, won awards. One summer he did a program at Brown, the next he did another at Stamford. We were thrilled when he got a spot last summer at MIT's Research Science Institute summer program, which was an incredible opportunity. Alex was a National Merit Finalist (top 1% in the country) and qualified for the AMC 12.
But Alex isn't just brilliant and competent. More than anything, he's a nice kid, kind, considerate and generous. He's gregarious and fun-loving too, and much more affable than most that would claim the honor of being called a geek or a nerd. He's also a master scuba diver, complete with experience in underwater pumpkin carving contests at Halloween.
They would fly him to see super-colliders, or to have an hour long collegial chat with a Nobel Laureate in Chemistry. That happened at Rice, which made him want to consider going there to school. Additionally, he always thought he wanted to go to MIT, but he was also interested in Oxford because of his grandfather, and the fact that he is a dual citizen.
I'm quite well versed in the college application process, and I was confident Alex would get in all three of these schools that were his top choices. He's ready and poised to solve some of the biggest problems of science; who wouldn't snap up all this honed potential?
Our nation needs him, his giftedness, and his expertise. He's not looking for eliteness, status, or cache, by applying to top schools. The kid needs the best caliber facilities and faculty on offer.
I was surprised he applied to as many schools as he did since I felt like it was an obvious slam dunk for him to receive admission to wherever he wanted to go. I was certain all his parent's sacrifices, and all his hard work were about to hit pay dirt. I looked forward to celebrating with them!
But that's not what his parents thought would happen. It would happen only for the one top kid in the school, they said, like the one last year who would stay on stage endlessly collecting every award, and eventually go on to Cal Tech. "Our son is a white male", they said, "and comes from a school of other smart kids."
A month ago, Alex got into his safety schools (which admittedly are some other people's reach schools). Then the rejections started rolling in. He was unceremoniously turned down at MIT, Oxford, Yale, Brown, Olin, Tufts, Williams, and the University of Chicago. He was wait-listed at Rice, Duke, and Washington University in St. Louis.
This just blows me away. This year my daughter's best friend got in Williams, and my nephew got in Rice. They both were offered generous money and neither is, well, an Alex. My nephew is also a "white male with dual citizenship" but was schooled in the UK, and Laura's friend was homeschooled until these last two years. Did that make them more "interesting?" Neither is in a STEM (Science Technology Engineering Mathematics) field. Did they have a leg up because their experience was more in the realm of writing so their abilities in developing essays were more helpful than all the math talent in the world?
It is like all the schools thought Alex would go to MIT so they didn't want to risk jeopardizing their ranking numbers by offering him a spot they thought he might not take. That would make them look less selective, because the kid clearly would have lots of great choices. I suspect this was a factor because I know how seriously these schools take their jockeying on the ranking system, even though they claim not to like it.
It is hard to separate out the issues. There is a demographic issue, for sure. Colleges want to take kids from diverse places, even though they could do better simply trolling the halls of Alex's school. If Alex was a homeschooler from Wyoming, he might have been lonely and less intellectually stimulated, but all those schools would have taken him in a heartbeat, while arm-wrestling each other over him.
Then there is the "white male" factor. We felt it acutely when my son applied to schools. For example, our son applied to Harvey Mudd in California whose student body is reportedly over 90% Asian, and when he went to apply for a Robotics scholarship there, it was only open to those "underrepresented in STEM fields" which included Asians but not whites.
Likewise, I remember seeing a list of names that received some big Chemistry award that Alex got and his was the only American non-Asian name on the list. Yale says they have a higher percentage of Asians than they want but that they take them because they are the only ones that are qualified, which we know in Alex's case is not true. I read this today about a "first generation American from Ghana" who got in all 8 of the Ivy League schools. He sounds like a decent well-rounded kid if without a specific passion; he was 11th in his class and because of race and demographic considerations, it is highly unlikely that any whites in the ten that placed above him in his class got any admissions to the Ivy's at all. The only kids MIT took from Alex's school were girls. One was Hispanic and the other one they wanted for the crew team.
I understand that a college's admissions board sits there and picks out their field hockey and tuba players. And I read this article about How Colleges are Finding Prodigies –particularly MIT–which is essentially about looking outside of America to find them. So there is a category they are filling that I've come to call Hackers-in-Yurts. Then I read last week the book Schooled which highlights a whole other type that must get spots: those unqualified that buy their way in. In short, admissions committees are not sitting there taking first our nation's own wholesome National Merit Scholars.
We are selling ourselves short as with this approach. We should honor academic excellence in our own countrymen first, regardless of demographics and race within our borders. Do we want to resume being a world leader? Then we should harness our best and brightest for the task, wherever they come from and whatever they look like. And we should have an organized and enriching way of doing it that leaves no one out.
There is a chronic underserving of gifted kids in this country. The Common Core has absolutely zero provisions for gifted kids. The result is that there is an epidemic of gifted kids leaving the school systems to start homeschooling.
These kids should be our most cherished national resource. Currently, gifted kids in this country are marginalized at best and maligned at worst, which is so unnecessary and stupid. Saudi Arabia determines the gifted among their population early and identifies them for accelerated learning, more attention, and special opportunity. Then will they come here for college in our kid's places?
I will be the first to say that every child has important gifts, and all gifts are to be amplified for a better world. But all kids are not gifted in the sense Alex is. And I think it behoves us to realize that those gifted kids not only deserve their chance to be well served by the system but that our future depends on their best ideas. Believe me, if I am telling parents of gifted kids how to homeschool these exceptional bundles of brilliance, our society should be able to figure out a way to assist them to thrive as well. It is not rocket science.
Which brings me to something I want to say about STEM. We say as a country that we want to encourage kids to go into it. We say that is where our future is. Have we already reached that goal if there is such a glut that there is no room at the top for a kid like Alex-of-the-1%? (The non-STEM kids I know got into their top schools; I know someone who got in Harvard this year with a systematical and carefully orchestrated approach to their application who is not at all of Alex's caliber.) If our nation thinks we are about encouraging STEM, we'd better have someplace cutting edge and progressive for all those prospective students to go to school. The 80 spots at Olin clearly aren't enough.
So today I sent this OpEd from the New York Times to Alex's mother.
I reminded her that MIT usually takes their graduate students from outside and not up through their undergraduate program, so he may still end up there one day. I said that I was glad he'd be getting full professors instead of teaching assistants. He'll certainly have a chance to shine and not get lost in the shuffle in someone else's shadow. When she said they plan to fly to the UK this month to see a few schools he got in there, I told her not to give up on America.
In this country, Alex got into WPI, Rose-Hulman, Georgia Tech, Case-Western, University of Florida, and SMU. These places have gone up in my estimation; good for them that they recognized a magnificent catch when they saw one, and they didn't let a numbers game stop them from vying for him. Now they have a chance of getting him.
Like my kids, Alex is not only remarkable, but resilient. He will do great wherever he goes. He hit the jackpot with his parents and his IQ and he easily earned my loyalty and love. Somehow God knows what he is doing with this precious one.
But please, can we create a country that is deserving of Alex and those like him? Can we create a worthy educational system and a fair college application process that honors their potential and makes the most of it? Please, as Americans, let us embrace and nurture our gifted instead of being such fools.