The Girl Who Drank the Moon (Book Review)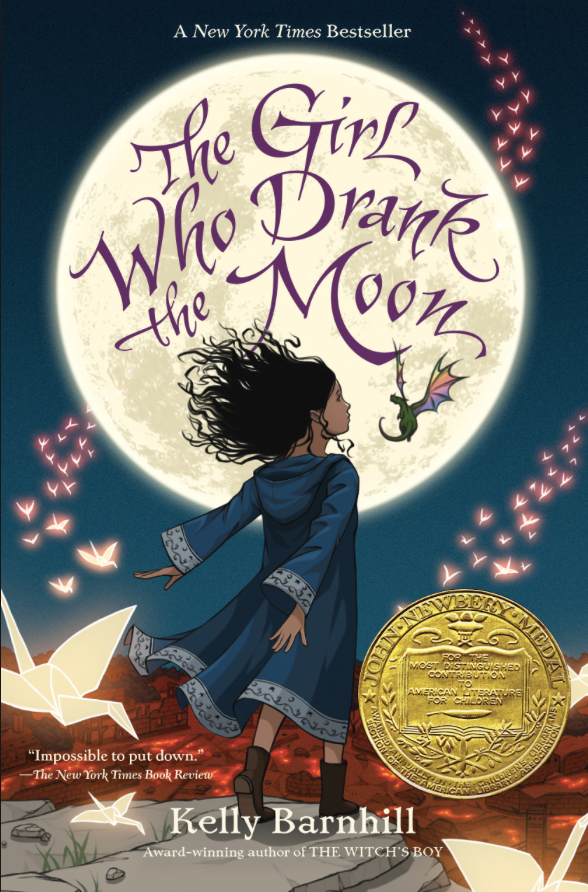 This is a book for middle schoolers that won the 2017 Newberry Award. It graces the top spot on most lists as the best book of 2016, and is on the New York Times bestseller's list.
My book club chose to read it as something light for August, and I am so glad we did! I absolutely loved this and give it a rousing five stars. I wouldn't have wanted to miss this one just because my kids are grown. It is so cool to read a book clearly destined to be a classic so close to its release. I am already scheming over who to give it to for Christmas, and my plans for recipients are adults not middle schoolers.
The story is fully imagined, complete with a good witch, a dragon, a swamp monster, a sorrow eater, a madwoman, a fine young man with a conscience, a terrific young girl coming of age (the one who drank the moon), a yearly sacrifice, a volcano, and a satisfactory ending.
The writing is gobsmackingly great– lyrical and poetic with abounding metaphors and high brow vocabulary, nonchalantly utilized, like it is the most natural thing in the world. I wish everything could be written this well. The turns of phrase are so good here, re-reading it would be a pleasure, with plenty to savor even if you already know what happens. I also think people of different ages, perspectives, and positions would get different things out of it; it is that rich and wide open.
The story pretends to be about magic, but it is actually about infinite love. Love fixes everything, when coupled with courage and hope. A wonderful line is said to an adoptive mother after meeting her birth mother, "My love isn't divided," she said. "It is multiplied." That's how I felt after reading this YA Book– that love was multiplied. After this plot driven but leisurely romp into a fairy tale world, I return to my own with an extra skip in my step, marveling, and sending mental kudos to the author. I hope the middle schoolers like this inventive, archetypal yarn as much as I did!
You may want to read this one for yourself, or to your young people, or give it as a gift. I highly recommend it.