Seneca Rocks (new poem by Polly Castor)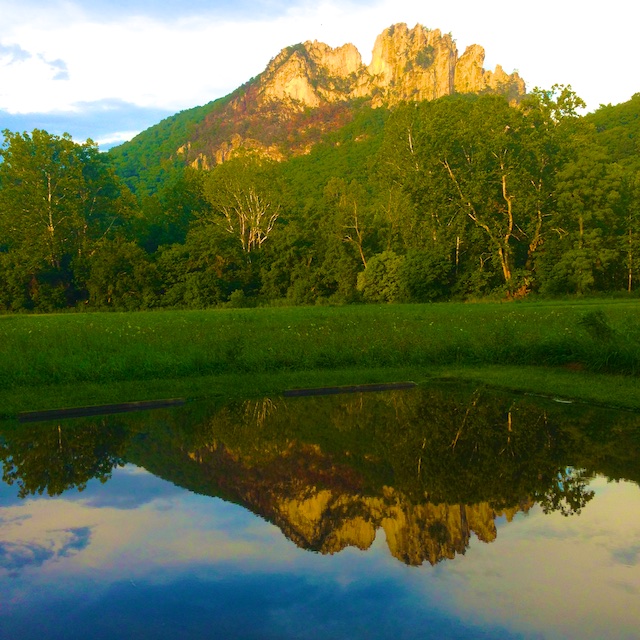 Seneca Rocks
Several times I drove by
hot footing it to deliver
or pick up our daughter
craning my neck to see
the geologic formation
bearing this name in that
remote back roads location,
only to see lackluster light,
dim or misty heights
waiting to be smiled upon
and graced another day;
I whizzed on by.
But the last time past
it was the golden hour and
the strata was lit up like
a throne, or a crown, or
the ramparts of a castle,
or crenelations of a walled
city on a hill, majestic,
looking bigger than it was.
Finally, I pulled over
to take in the supposedly
only inaccessible peak
on the East coast.
The native Americans
camped at its base
and I can see why:
a serious landmark with a
lovely river flowing below.
I took a photograph of
the rocks complete with
its mirrored reflection
in what looks like a lake,
but was only
a shallow puddle
in the parking lot,
with me musing
about the complicated,
convoluted matrix
of time, place,
fickle appearances.
and ephemeral light,
all converging to seem
so regal– monolithic and
impossibly out of reach,
while standing staunchly
right there in front of me.
Polly Castor
8/4/17