Spinach Falafel (Recipe)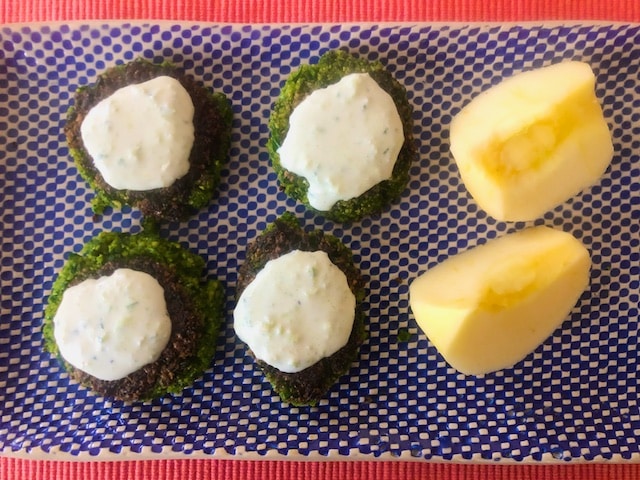 This is great for a light, balanced, vegetarian lunch, and it has the added benefit of being both healthy and inexpensive. It would be great served paired with my Roasted Beet and Tomato Salad for some contrast of color. I garnished the falafel with our usual Tzatziki Sauce Recipe, which I highly recommend, and maybe I like these new green falafel better than those traditional ones I've made all this time! In this recipe, I soaked my own chickpeas, in the other I used canned, which might be part of the difference.
If you want to make this vegan, simply use either coconut or soy yogurt in the Tzatziki.
Spinach Falafel Recipe
1 cup dried chickpeas
1 small onion
3 large garlic cloves
1 1/2 teaspoons baking powder
2 teaspoons ground cumin
1 teaspoon salt
8oz fresh spinach, chopped
6 tablespoons olive oil
taztiki for serving
Place the chickpeas in a large bowl and cover with water. Set aside for eight hours or overnight.
Drain the chickpeas. Chop the onion and garlic. Combine the chickpeas, onion, garlic, baking powder, cumin and salt in a food processor and pulse until finely chopped but not pureed. Add the spinach in and pulse until minced. (See photo below.)
Heat oil in a saucepan over medium high heat. In batches roll the mixture in your hands to create a flattened ball, and fry them in the hot oil until crisp, about two minutes each side. Remove from oil and drain on paper towels.
Serve immediately with a dollop of tzatziki on each one.
Enjoy!