New Poem by me: Each Year a Virginia Reel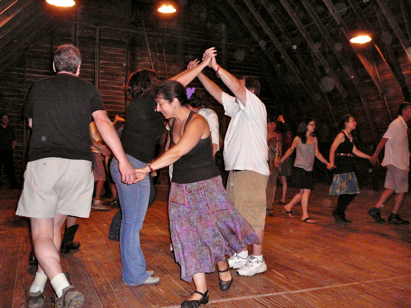 Each Year a Virginia Reel
Life is a dance and I love all kinds.
But a reel? Now that's fun.
One is happy in a community of cyclical beauty
All those incremental stations, partnered
supporting others together, enthusiastic, anticipating
then a special opportunity for an exhilarating gallop of stardom
with a moment to offer hospitality, and another to lead
then it starts all over again.
Our reel has similar stations each year moving on up the formation:
the shoveling of winter's white
pouring over organic heirloom seed catalogs
the homeschooling Art Fair
4H Public Speaking competition
the FAFSA forms, then taxes
application for summer activities & scholarships
the NLC all class retreat
the FIRST Robotics competition
the homeschooling Science Fair
splashing in spring puddles, examining catkins
research and decisions regarding next fall's school curriculum
raking up earth's scruffy dandruff
preaching at the Good Friday ecumenical service
Easter with a refocus toward a risen Christ
shooting at close range each successive fresh explosion of bloom
being outside again more, planting the garden, and chairs on the front porch
huge exams and a scramble to finish up excessively ambitious academic goals
our church's annual meeting
early Sunday morning bike rides begin again
spending lots of sublime time at the picnic table
children off to summer plans
a private marital moment (a getaway for us?)
enjoying swimming at the Quarry, then relaxing in the sun
husband off to his annual retreat in Idaho (a movie festival for me)
the book war; reshuffling resources and scheduling school
collecting the children home again
fleeting family togetherness before off to school once more
so much produce! what to do with it all? recipes, freezing, drying
I sneak off to Creative Arts Camp in Maine
homeschooling resumes in earnest
exhibiting at the 4H Fall Fair
oh, the autumn leaves are glorious, just bask in it
many hikes and copious photos of blazing color
my conference in Boston
the harvest is in, the last rose wilts
election day
MIT SLPASH program
Thanksgiving
hunkering inside more
gifts, cards, carols, guests
Now it's our turn to whoosh down between all the dancers hand in hand…
it's Christmas
Paired as a Gothic arch, everyone sashays through our aperture, with a smile and a nod
and we peel off, individually leading around the outside… to New Year's
and to start it all again.
It's a long satisfying reel (and a lot to reel off)
with lots of do-si-dos and swing your partner
a bit exhausting (there is work in between all that)
The children make the circuit extra long, and more delightful
and though the stations and participants change a bit
it's no less fun, knowing what to repeatedly expect
and the foot tapping
hand clapping
skirt swinging
music
envelops it all
like reading, art and food does
shared with fellow dancer folk.
Yes, our life is a dance, each year a Virginia Reel.
(Every day is too but that's a poem for another day…)
So as we reel in one year at a time, thanks for dancing with us:
it's always nice being reel with you!
Polly Castor
3/7/11
Note: A big thank you to blog reader and country dance caller Patricia Campbell (see here) for supplying these three Virginia Reel photos taken either by herself or Nick Lacy…