Review: West Wing Series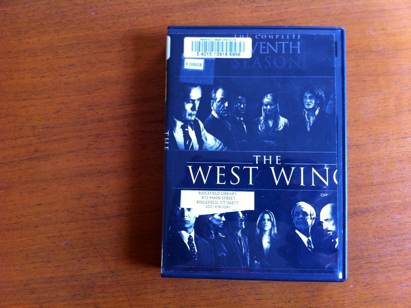 It feels like an end of an era. It has taken my husband and I, together with our oldest two teenagers, three years to get through the complete seven season series of this TV show on DVD, checked out from our library. We absolutely loved it and are sorry it is over. We started it mostly to engage my then somewhat recalcitrant 13 year old son to engage in doing something together with us, and boy did it work and then some. We all were hooked, and couldn't wait until we were all available again for the next installment. In the intervening three years, we saw these two teenagers become more interested in and committed to the democratic process, more thoughtful on news and issues, and exhibit more of a responsibility for their part in our collective futures going forward. I feel this outstanding show deserves more than part of the credit for that.
It is about a hypothetical democratic President's eight years in office, including getting elected, staying elected, and the election that replaced him. It goes behind the scenes to what makes this colossal job possible, the changing but constant intensity of it, the human face of it, the challenges and demands of it, the opportunities and possibilities of it, and the inherent roadblocks to it. You feel the successes and the failures, the good calls and the mistakes. After seeing this, you understand what it takes in an entirely fresh way that will leave you comprehending the news more lucidly. Democracy is about people, not just the ones who vote, but those who devote themselves so tirelessly behind the scenes to make it possible.
We came to love all these characters, and love our time together watching their lives and work unfold. It will be hard to ever see these actors in any other roles, they have so indelibly become the people they played here. All of them did a great job.
If you haven't seen this series, I strongly recommend it. Overlooking a few lagging moments and a couple casual sex scenes, I give it a hearty fives stars overall. You'll come out of the time invested in it with more than you put in, especially if you watch it with people you can discuss it with!