Recipe: Tomatillo Sauce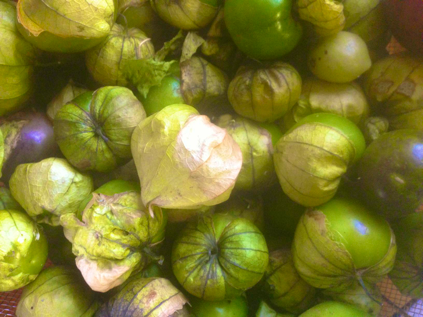 This is my last cooking project from the garden this year. It is the first time we grew tomatillos. I initially wanted them for our Tomatillo Soup. However, with an end of season bumper crop I had to do something additional with them, so I made this Tomatillo Sauce, which I found in the Moosewood Restaurant Favorites cookbook shown below.
 
I used this sauce instead of the Trader Joe's Salsa Verde in my Salsa Verde Tilapia Enchiladas, and it was delicious, although I should have made it spicier. I made five batches of this mixed together with one hot pepper and four not so hot ones; next time I need to be braver and use more really hot peppers, since this was so mild. I froze batches of the right amount for this recipe in zip-locks to enjoy in these enchiladas throughout the winter.
Green Tomatillo Sauce
1 pound (or 3 cups coarsely chopped) peeled, fresh tomatillos
2 tablespoons olive oil
1 cup finely chopped onions
1 garlic clove, minced
3/4 teaspoon salt
1 minced fresh hot pepper
2 teaspoons ground coriander seeds
1/2 teaspoon ground cumin seeds
1 teaspoon of sugar
2 tablespoons chopped fresh cilantro
 
Preheat oven to 425˚F.
In a mixing bowl toss together the chopped tomatillos, oil, onions, garlic, salt, hot peppers, coriander and cumin. Spread the mixture out in a prepared baking sheet (I used Pyrex) and roast until the tomatillos are soft, about 20 minutes. Puree in a food processor or in a blender. Stir in the sugar and the cilantro.
 
Enjoy!