Journaling the Bible Lesson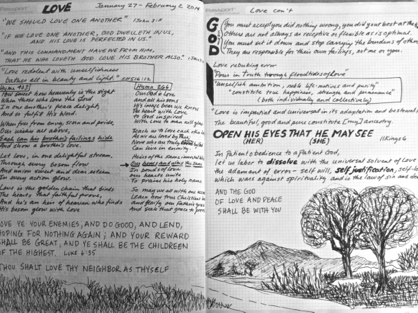 Somewhere in the bowels of this blog I've had a post similar to this one, where I showed my page spread of weekly notes on the topical Christian Science Bible Lessons. Well, I still do this. I find it very helpful to capture the thematic focus of the week, to ponder it better at the time, and have it to look back on for renewed inspiration. If you are a regular student of this Bible Lesson series, I recommend utilizing this approach. I bring it with me to the Sunday service too, and it helps me make connections I might have missed, while I hear the same lesson read aloud that I've studied all week. 
If you are not familiar with the Christian Science Bible Lessons, I highly recommend them!  You can find them here.