Peek Inside my Bible Lesson Study Journal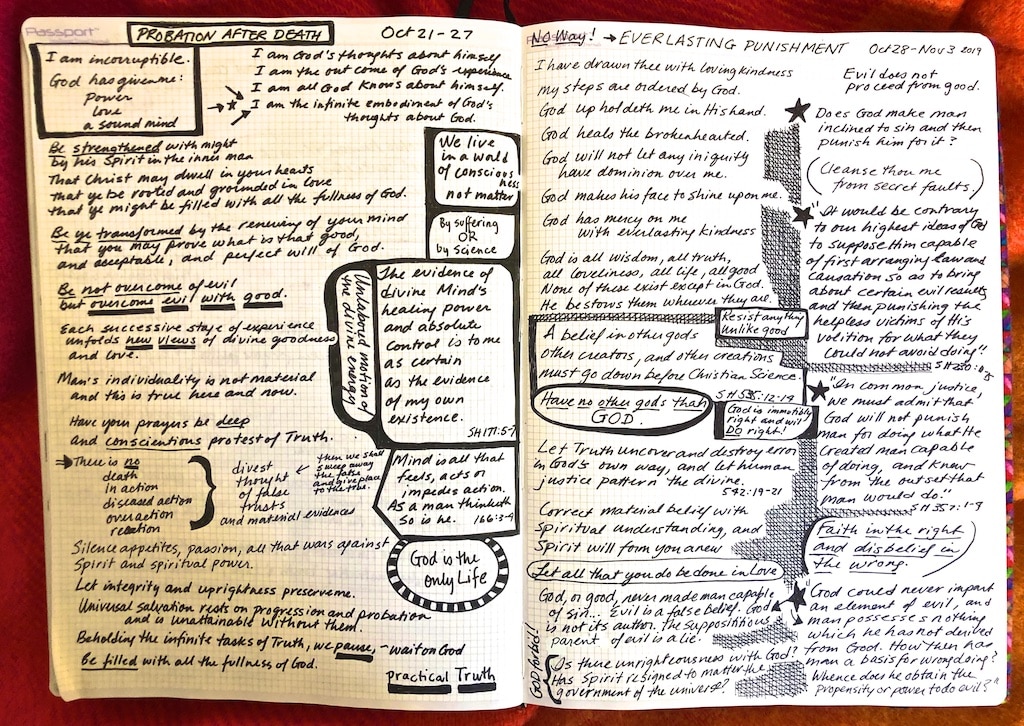 In the past I have posted pages from my Bible Lesson Journal (see this post 2/2019, or this post 2/2014, or this post 6/2014) and now some of you are asking, do I still do this? The answer is yes.
It focuses my thought on the importance of the ideas in our Bible Lesson sermon (get it here) as I study it throughout each week. It helps me dig in and own what I'm reading and praying with. I feel like our collective health and prosperity depends on doing this well, so I take it seriously, while also toying and playing with the ideas, or challenging and questioning them. I encourage you to do this too.
Since the feedback I've gotten is people actually want to try to read my scribble here, this time I've taken photos of each page spread (three, equaling six weeks) as well as each individual page for a closer look. I'm happy if you get something out of this, but really, I recommend you get started on doing your own work with this Bible Lesson. I believe in the "spiritual interpretation" of the Bible, which means what you'll get out of it will be different than I do.
And you gotta love the titles of these last six weeks of lessons. Everlasting Punishment? The message here was God forbid; no way! Probation After Death? Hummm… more like God is Life itself; how do you get away from that? Atonement? Think At-one-ment; when that is where you are, what is there to atone for except thinking there was another possibility? How about the topic Are Sin, Disease and Death Real? Well, not in the Kingdom of Heaven, which Jesus insisted was both "at hand" and "within you," i.e. right here and now. And then five and six weeks ago we pondered both what Unreality was, and well as examining Reality.
This is gobsmackingly good stuff! If you don't get into it at all, or don't get into it deeply enough, please don't miss out on qwringing the practicality and blessing out of these profound and foundational ideas.