Book Review: If I Live To Be 100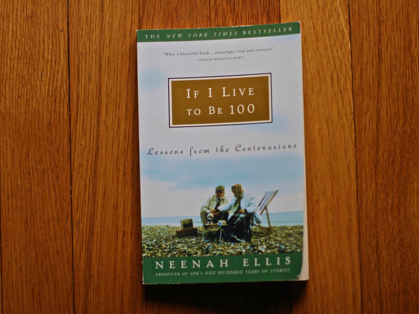 I enjoyed this encouraging book of lessons from centenarians, and give it five stars. Written by Neenah Ellis about her interviews for her NPR series, it is more than the sum of its parts, as she examines her own life and responses in the process. I found her digression about "limbic response" fascinating, for example, as I experience catching people's vibes all the time myself, and it was interesting to have that explained. You come to care about as well as be inspired by these centenarians along with the author…
Anna lives alone at 103 and regularly still rows her boat on her lake and enjoys skinny dipping when it is foggy or misty out. This is still true by the end of the book when Anna is 105.

Abraham was 104 and still tutoring college students at Baruch College; he was in his 73rd year of teaching. He thinks "the brain is evolving to the point where someday human beings will be able to understand the complexities of the world better."

R.L. wants to get married so he can have companionship, as well as be driven around, so he can continue to preach the gospel he is exuberant and passionate about. This transpires when he marries in his 101st year a beautiful woman 20 years his junior.

Ruth, a petite black lesbian, was making the rounds as an inspirational speaker, surrounded by friends and well-loved. She says, "Just look at the power of what ordinariness can do!"

Harry S, an active fine artist and painter, was still married to Celia, the bride of his youth, and in the afternoon they "lie together in bed and listen to music, holding hands." "To be a painter is to realize a spiritual portion of life." His life was about his paintings, his family life, his books, but mostly about ideas and a spiritual search. "I know there is something that holds this mystery together. I pray before I start painting and while I'm working on it. That's why I want another lifetime." (Amen!) When asked what prolongs life, his answer was, "Art and music. Beyond that, it is to have a heart full of love. That is the most important thing."

Sadie and Gilbert are married for more than 80 years and both made it to 100 (supposedly the odds of that are 6 million to one) but they are nonchalant about it. "We do the waltz and the two step now. We used to do the square dances… but we can't hear." They are "amiable and light hearted."

Louisiana is a very vigorous granddaughter of slaves. After discussing remembered lynchings she quips, "It means something to do good. It does. It means something."

Helen remarried at 97 and she's 107 now and going strong, ambulatory and keen.

Harry B has lived in the same place since 1927. Forty two years ago he started out with three raspberry bushes in his back yard, and now he yields 400 pints each year, which he shares with his friends as generously as he recounts his lucid stories.
"Most of the centenarians were models of perseverance and positive thinking. They had open minds and open hearts. They were curious, generous and fun." (My note: I have those credentials… I only hope I can be as cogent!)
"As many as 15% of centenarians are still living independently."
"About the only thing that makes people happy is spending time with people they are emotionally close with. Other things don't make them happy; in fact, most of the things that our culture say should make you happy don't."
"I know that for every sharp, funny, charismatic centenarian I've met, three or four are ailing, depressed or alone. I don't know how we change that, but I think Ruth Ellis' admonition to 'remember the seniors' [visit them, etc] and her simple reminder to say hello to someone who is sitting alone is the starting place."