Birthday Cookie Recipe (Cut out Sugar Cookies with Butter Frosting)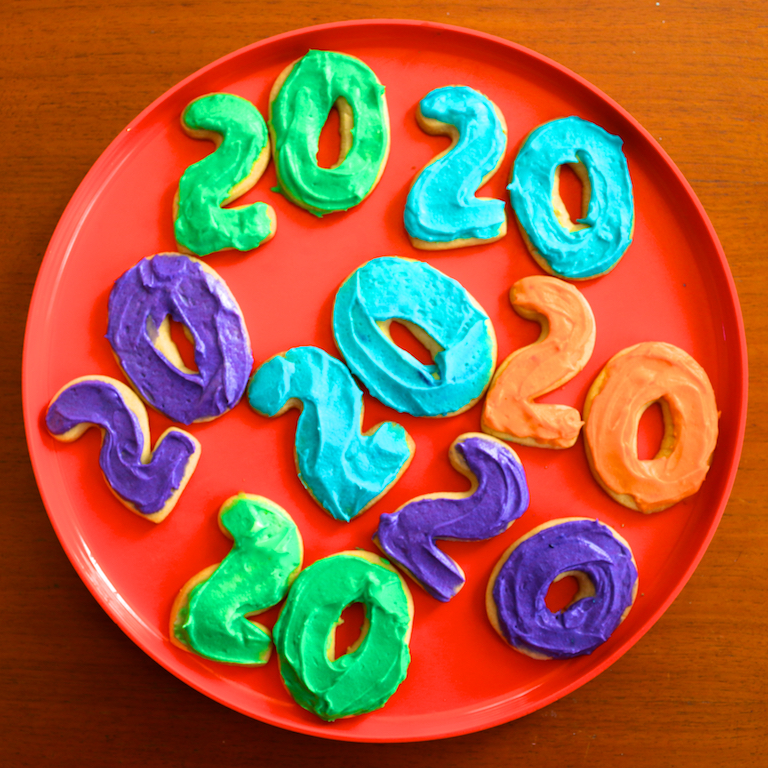 Our youngest is 20 today! We sent her fifty sets (two batches) of 20 shaped cut-out cookies to college for her to share with her friends. We made a few circles for ourselves as well as you can see below…
(Also this recipe makes great heart-shaped Valentine's Day cookies; so you can make some today! Note: we did the next day; see last photo below…)
The huge cookies that we did previously when the kids were here were cut out freehand from dough 1/3 inch thick. We did not attempt to move them from the baking sheet; they were frosted and served from there once they were cool.
For those newer blog readers check out examples on this blog here, here, here, here, here, here, here, –you get the idea…
However, not until now have I posted this recipe! It dates back to my childhood. My sisters make it as well, but more as Christmas cut–out cookies, I think. Making them instead of cake for birthdays in the shape of numbers is such a fun and delicious tradition, blog readers have begged over the years for the recipe, so in celebration this day here it is:
Cut out Sugar Cookie Recipe
1 1/2 cups sifted confectioner's sugar
1 cup soft organic butter
1 egg
1 teaspoon vanilla extract
1/2 teaspoon almond extract
2 1/2 cups organic white all-purpose flour
1 teaspoon soda
1 teaspoon cream of tartar
(Be sure to leave your butter out to soften before you start.)
Mix together the sugar and the softened butter.
Add the egg and both extracts and mix thoroughly.
Stir together dry ingredients and mix in.
Pat the dough into a flattened ball and refrigerate for 2 to 3 hours.
Preheat the oven to 375ºF.
Divide the dough in half and roll out 1/4″ thick on a lightly floured surface.
Cut with cookie cutter and place on a cookie sheet with enough room between for them to spread out without bumping each other.
Bake 6 minutes until barely golden at the edges. Don't overcook or they will be brittle instead of luscious!
Let them cool on the baking sheets before frosting them.
Butter Frosting Recipe
1 pound powdered sugar
1 stick soft organic butter
1 teaspoon vanilla
1 dash salt
1/4 – 1/2 cup whole organic milk
paste type food coloring sold in party stores (if desired)
Mix together the powdered sugar, the butter, the vanilla and salt. Blend in 1/4 cup whole milk, then add in more milk as necessary for desired frosting consistency. Separate into smaller containers and mix in a small bit of paste type food coloring with a toothpick. A little goes a long way for vibrant colors. Frost the cookies when they are cool; we like it rather thick.
Have fun and enjoy!
Felicitations!!