Whole30 Compliant Recipes and Ideas (with Breakfast Photos)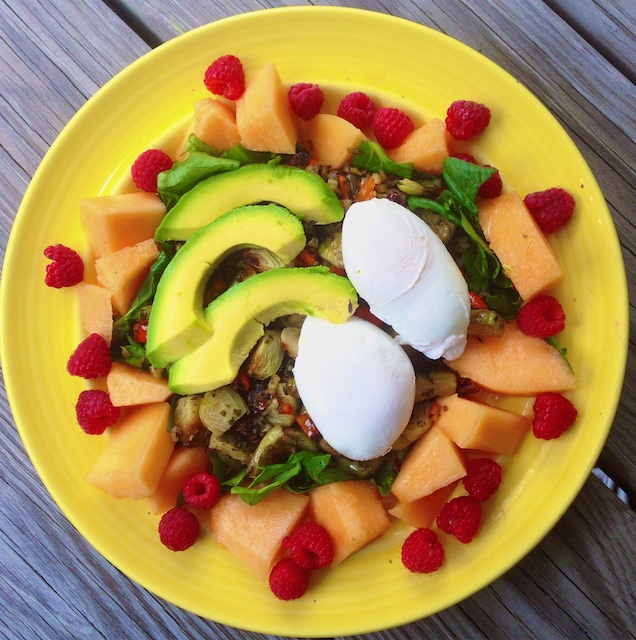 Many of my blog readers have asked me for some Whole30 meal ideas, knowing that I generally eat that way anyway since before the term was coined. I have had that discussion enough times, that I thought it might be more efficient to offer a list to get you started. Check out the Whole30 website for the complete scoop, but the idea is to swear off anything processed for a whole month, including grains, sugar, dairy, bad fats, caffeine, and alcohol.
People are surprised how great they feel when they do that, but it does not surprise me. Maybe you want to give it a try? Be warned however; it is a game changer and your tastes will evolve– you will want and demand more real food going forward.
Some Whole30 Compliant Recipes on this Blog:
Spiced Coconut Shrimp with Spinach (Recipe)
Vegan Alfredo Recipe (Cashew Sauce with Spaghetti Squash, Broccoli, and Shrimp)
Kohlrabi Salad with Beets and Fruit
Recipe: Mustard Green and Veggie Sauté with Walnuts
Recipe: Salmon and Bok Choy with Blueberry Salsa
Recipe: Mexican Cabbage and Tilapia Soup
Recipe: Easy Roasted Tomato Soup
Recipe: Thyme and Garlic Roasted Shrimp
Asian Sesame Sauce for Spiralized Carrots
Recipe: Roasted Brussels Sprouts
This is by no means an exhaustive list. And many times my recipes just need switching out butter for olive oil to be Whole30 compliant, and I didn't even begin to list those.
Also in this post I have photographed some of our Whole 30 compliant breakfasts, because this is an aspect of the Whole30 challenge that often stumps those cereal or toast eaters out there. For breakfast, we put an egg on (or with) all sorts of vegetables and love it. Check out the photos in this post to see what our Whole30 compliant breakfasts look like. And also note that I not only made the food, but also made most of the pottery plates that these meals were eaten on!
Anyway, I hope this either gets you started or gives you some more needed ideas to stay the course for clean eating. My advice is to focus on eating a wide variety of fresh food, finding ways to enjoy the food that is better for you, rather than pinning away for the junk you should avoid.