A Successful Internship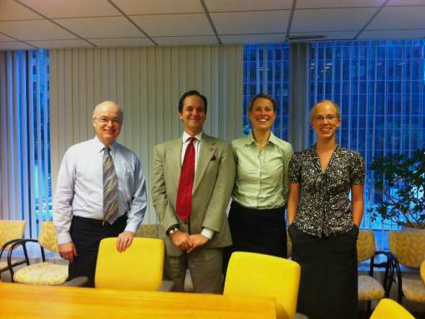 Today I drove down to Washington D.C. to pick up my oldest daughter from her internship, move her from Asher House in DC back to her house in Annapolis, and then bring her home for the weekend before school starts.
She had a great internship! The photo above shows her with her office. Here are some highlights of what she did:
• She spearheaded a Town Hall event on the internet. She created the website, questionnaire, and promotion for it, in addition to taping it for viewing afterward. They had hundreds of people tune in live for the vent, reaching the maximum capacity for any online event. Questions for the experts funneled through my daughter so she got to choose which ones would be answered. All in all, a smash hit.
• Met with congressmen on Capital Hill about accommodating spiritual healing in the health care reform legislation. Very interesting.
• Did lots of website remodeling; her html skills were really useful!
• Heard President Clinton speak.
• Started a newsletter for the office, and used it as a vehicle to survey constituents about insurance coverage. Answered hundreds of emails about health insurance and became very informed on the subject.
• In the gallery during the debt ceiling budget crisis, she was interviewed by and quoted in the New York Times.
• In the evenings she enjoyed music and theater in the Kennedy Center…