A Fledgling Bald Eagle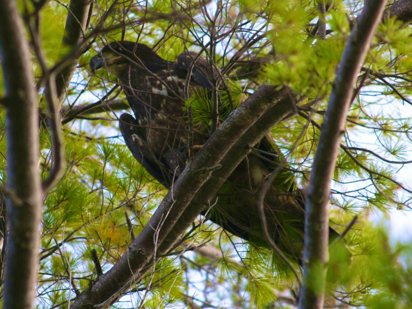 A couple of bald eagles took up residence in the tiny island shown in the photo below, opposite the camp beach. This season they had two babies. Yesterday, I had the privilege of seeing one of the adults flying low and keen, but today, while I painted alone out on the point of the peninsula, I was visited by one of the juveniles, who sat peering at me from a branch of the tree that I was painting. At a young age they do not yet have a white head, but they are already huge, with a wing span of around five feet. The whole time he was sitting there watching me astutely, he maintained quite a loud verbal exchange of conversation with one of his parents on the island a quarter of a mile away across the water.
I felt so honored that this remarkable wild being was not only curious about me but felt comfortable enough to stay and hang out with me in my quiet sanctuary of solitude. I was there reveling in nature and creation, and this amazing bird's presence heightened that experience considerably!
I had my camera on me and took some photos, and although not ideal through the foliage, they remind me of this very powerful – almost holy – mutual communion we shared so companionably.