Recipe: Crab and Corn Chowder with Bacon and Thyme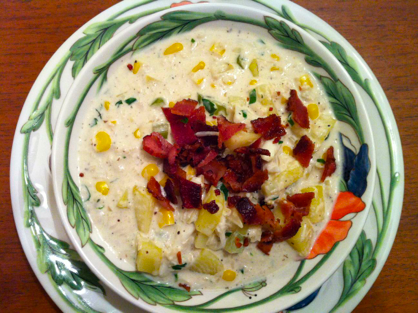 Wow. This is delicious as well as nurturing and heartwarming on a cold day. If you are someone that thinks you need potatoes in a chowder, substitute two diced potatoes for two of the celery sticks and one of the cups of corn. We buy a good 16 ounce container of crab at Costco; it is less expensive than other options. This is both easy and quick to make!
Crab and Corn Chowder with Bacon
6 slices of (nitrate free) bacon
1 large onion, finely chopped
4 celery stalks
3 cups of organic corn kernels
2 cups vegetable broth
2 cups organic whipping cream or half & half (I use one cup of each)
16 oz container of crab meat
1/2 cup chopped fresh parsley
1 heaping tablespoon of chopped fresh thyme
salt and freshly ground pepper
Cook the bacon in the bottom of your soup pot until lightly brown and crisp. Transfer to paper towels to drain. Pour off all but a tablespoon of the bacon fat. Add the onions and celery and sauté, stirring, until tender, about 5 minutes. Add the corn, broth, and cream and bring to a simmer for 10 minutes. Just before serving, stir in the crab, parsley and thyme, and simmer another 5 minutes. Season to taste: in my opinion, it will need over a teaspoon of salt and lots of freshly ground pepper, but this will depend on the broth you are using.
Chop the reserved bacon. Ladle the chowder into bowls and top with the bacon bits. (Makes six servings.)
Enjoy!