Recipe: Multigrain Pancakes with Berry Maple Syrup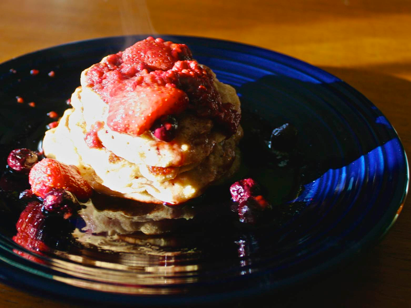 I made these for the first time yesterday morning and we may have a new Sunday morning breakfast tradition! These were awesome, and worth buying the almond milk, coconut oil and buckwheat for…
Multigrain Pancake recipe
2 cups mixed ripe berries (we used frozen, thawed)
1/2 cup maple syrup
1 cup almond milk
1 cup plain yogurt
1/2 cup rolled oats (not instant)
1 1/3 cup whole wheat pastry flour
1/4 cup buckwheat flour
1/2 teaspoon baking powder
1/2 teaspoon baking soda
1 teaspoon ground cinnamon
1/4 teaspoon salt
2 large eggs
2 tablespoons agave, honey or maple syrup
1 tablespoon virgin coconut oil, melted and cooled plus more for the pan
1 teaspoon vanilla extract
In a medium bowl whisk together the almond milk and yogurt. Add the oats and mix well. Let stand for at least 15 minutes.
Place berries and maple syrup in small saucepan and bring to a simmer over medium heat for about 3 minutes, then keep warm.
In a large bowl, combine the flours, baking powder, baking soda, cinnamon and salt.
Crack the eggs into a small bowl and lightly mix them. Add agave, oil and vanilla and mix to combine. Pour this mixture into the oats mixture and stir. Then pour this into the flour mixture and use a spatula to mix it together just enough to combine. Be careful not to over mix; some lumps are fine.
On a griddle, melt about 1 teaspoon of the oil over medium heat. Spoon heaping spoonfuls of batter onto the griddle for each pancake; they will look less liquidy than other pancakes and more like oatmeal cookies. Fret not! Cook for 2 minutes on each side. On top of stacks of three, spoon the berry/maple syrup mixture. Serve immediately.
Makes 18 small pancakes (serves 6.) Try it and marvel! Filling, healthy and delicious.