Photos from my Mom's Memorial Weekend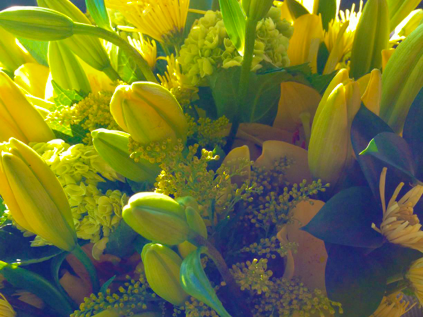 Here are some photos from my mom's memorial weekend. We also got some other great photos, including several great group photos of the whole family – minus my son who was unable to come – but one of my sisters does not want photos of her family on the internet so there are many fewer here because of that. But these can give you a feel for the love and genuine family feeling we shared.
I even took a photo through the handmade glass in the room where we held the memorial service, remembering a Bible quote from I Corinthians 13:12, "For now we see through a glass, darkly; but then face to face: now I know in part; but then shall I know even as also I am known…" 
We stayed together in the same hotel, worked together harmoniously (but intensely and sleeplessly) on the slide show, and ate out companionably at my parent's favorite restaurants. James and I bought the flowers at Whole Foods in Ann Arbor, and gave them afterwards to cousins from Michigan who were great to connect with again. As a special treat, I even got to see a good friend from college, who delighted me by coming to the service.
And today, we celebrated my sister's birthday together as well. (For her present I got her three paperbacks that I've reviewed well on the blog: Remarkable Creatures, Flight Behavior, and The Widower's Tale.)
As we drove past the my parents house where they lived for over fifty years, I wondered if I'll ever have a reason to be back in Ann Arbor again, where I lived for 25 years.
It is odd to say after such sad circumstances, but we had a great weekend. All the work my mom put into this family lives on and is being perpetuated by those she invested in. That was amazingly great to see, feel, and be a part of. I'm so grateful for her and for what she gave all of us!