My Forum on Faith Article in Today's Danbury News-Times: Serving Others Should Be Part of Our Daily Lives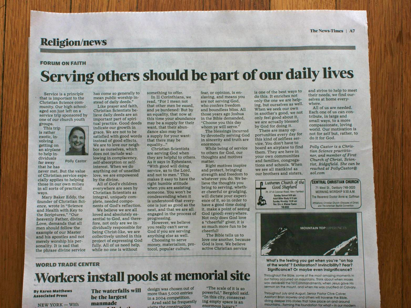 Periodically, I write for the "Forum on Faith" column in the Danbury News-Times. Here is my article that was in today's paper:
Serving Others Should Be Part of Our Daily Lives
Our high school aged son just left on a service trip sponsored by one of our church youth groups. This trip is rather exotic, involving getting on an airplane to help individuals far away that he has never met. But the value of Christian service especially applies to helping those in our own milieu in all sorts of practical ways.
Mary Baker Eddy, the founder of Christian Science, wrote in Science and Health with Key to the Scriptures, "Our heavenly Father, divine Love, demands that all men should follow the example of our Master and his apostles and not merely worship his personality. It is sad that the phrase divine service has come so generally to mean public worship instead of daily deeds."
Like prayer and faith, daily deeds are an important part of spiritual practice. Good deeds indicate our growth in grace. We are not to be satisfied with good words instead of good effects. We are to love our neighbor as ourselves, which does not include wallowing in complacency, self-absorption or self-interest. When we do anything out of unselfed love, we are empowered by the divine.
All of God's children everywhere are seen by Christian Scientists as integral, uniquely complete, needed components of God's reflection. We are all loved and absolutely essential to God, and therefore, not only are we individually responsible for being Christ-like, we are collectively united in this project of expressing God fully.
All of us need help, while no one is without something to offer. In II Corinthians we read, "For I mean not that other men be eased, and ye burdened: But by an equality, that now at this time your abundance may be a supply for their want, that their abundance also may be a supply for your want: that there may be equality…"
Christian Scientists are serving God when they are helpful to others. As it says in Ephesians, "With good will doing service, as to the Lord, and not to men." This makes it easy to have the right humble attitude when you are assisting someone. You won't be condescending when it is understood that everyone is just as good as the next, and that we are all engaged in the process of progressing.
However, you really can't serve God if you are serving anything else as well. Choosing to serve money, materialism, protocol, popular culture, fear, or opinion, is enslaving, and means you are not serving God, who confers freedom and boundless bliss. All those years ago Joshua in the Bible demanded, "Choose you this day whom ye will serve." The blessings incurred by devotedly serving God in sincerity and truth, are enormous.
While being of service to others for God, our thoughts and motives matter. Right motives inspire and protect, bringing strength and freedom to whatever you do. The thoughts you bring to serving, whether cheerful or grudging, will dictate your experience of it, so in order to have a good time doing it, make a point of seeing God (good) everywhere. Not only does God love a cheerful giver, it is so much more fun to be one!
The Bible tells us to love one another, because God is Love. Active Christian service is one of the best ways to do this. It enriches not only the one we are helping, but ourselves as well. When we seek our own in another's good, we not only feel good about it, we are actually blessed by God for doing it.
There are many opportunities everyday for this kind of selfless service. You don't have to board an airplane to find them. They are here in your own communities and families, churches and schools. When we see all mankind as our brothers and sisters, and strive to help to meet their needs, we find ourselves at home everywhere.
All of us are needed. Each one of us can contribute, in large and small ways, to a more compassionate, loving world. Let's do it for God.