My Mother's Memorial Service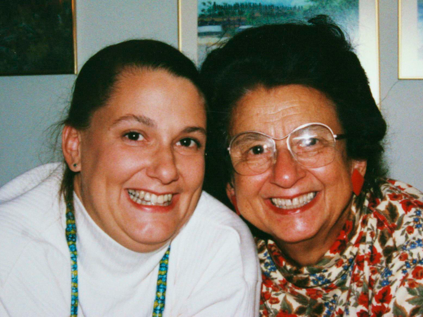 Today we had a wonderful memorial service for my mother in Ann Arbor, Michigan, held in a lovely room at the University of Michigan League, with extended family and wide ranging friends in attendance.
Our immediate family flew in Friday to organize the event, complete with an elaborate 13 minute slide show set to music my mom loved, like Frank Sinatra's "Always" (which was my parent's "song"), "In the Mood" by Glenn Miller, and some Benny Goodman tunes. Each of us combed our own archives for photos of her, and each of us also took photos of her artwork that we've come to own. We wove all this into an amazing visual tribute to her life that was so full of creativity and love.
During the service, in addition to the slide show, I read an edited version of my remembrance of my mother that I put on the blog just after her passing. My cousin wrote an original piece of music for my mom titled "Ginny's Smile" that was shared, and my sister played both a viola solo on her own and a violin duet with my niece. A minister that our family knows well gave a homily about how our lives are best when we are a good accompaniment to others, and how my mother demonstrated this so well.
I wept with gratitude during both the fantastic slide show and the fabulous duet, but held it together fine to deliver my own considerable piece of the program. I am so thankful to have had this woman as my mother!
Afterwards, we served punch, veggies and dip, baked brie, lemon bars, raspberry bars, and truffles, as we chatted with guests that came from seven different states.
Below you can see a photo of my mom with each of my own children. These were among many that I contributed to the slide show…