Man in the Iron Mask (Book Review)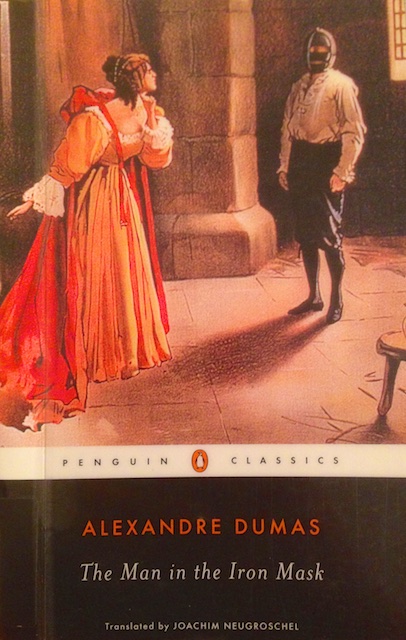 I'm still working on my Reading Challenge for this year. When it came to picking out an "old book," I felt like I should reach back and read a classic I had never read, even though that directive could just have meant an old copy of any book.
I cast about for something engaging written long ago, and ended up, at the recommendation of a librarian, with The Man in the Iron Mask. She told me (inferred from the cover and not by any actual experience I now know) that it had some romance to it. Thinking of Alexander Dumas' other big hits, I thought I'd give it a try. I was also beguiled by the fact that this was Robert Louis Stevenson's favorite book (having read this book about him), so I thought if it had so captured his imagination, it might also do that for mine.
Well, first of all the scene on the cover never comes close to happening in the book. Secondly, the title is all wrong, because it isn't really about the man in the iron mask. It is a sequel to the Three Musketeers, and is the story of how they die.
Valiant fellows all, and I liked each for their individual stellar qualities, but the plot, after some verbose, irrelevant detours (the guy must have been paid by the word!), and some admittedly very diverting, swashbuckling interludes, trails off at the end in a disappointing way. I prefer a rally at the end, instead of itemizing the demise of those the author has taught us to care about.
So I guess I'm not really recommending this, although there were some moments that the writing sparkled like the "diamonds that the moon gilded on the bushes" back then. I guess I'll settle on giving this book four stars, because there were moments I thought it might be earning five stars, even though in the end, I considered only giving it three.
What "old book" did you read that was better than this?