Concentric Connections (Poem by Polly Castor)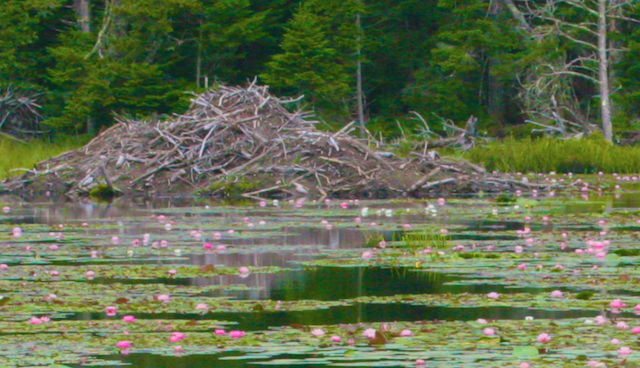 Concentric Connections
Beavers with big teeth
chomp down trees
building dams and lodges
with underwater entrances,
clogging waterways,
busily terraforming,
mindless of the repercussions;
they are just doing their
instinctual thing.
Water lilies take hold
with their open palms
upward as in a zen prayer
cherishing the still waters,
feeling secure enough in the
silty, undisturbed footing
to erupt into blooms
like floating bonfires
of fuchsia flames, blazing
peacefully and safely
in the aqueous, green calm.
Frogs sit on those
launching pads,
musing contemplative,
slurping up passing bugs,
but otherwise motionless,
camouflaged, unseen until
unanticipated, they flip–
plunging unceremoniously
into the purple pond.
With a blurp and a gurgle
their webbed feet submerge,
and they disappear below.
That canny heron
patiently waiting
in the quiet reverie
next to the beaver's
sticky domicile
had twitched ever
so slightly,
and all of a sudden
the surfaced is stirred,
rippling, in overlapping,
concentric rings,
revealing this:
all are connected,
although distinct,
woven tightly together
into a unified fabric
full of dependencies
and encircling beauty.
Polly Castor
9/18/17