Roasted Garlic (Recipe)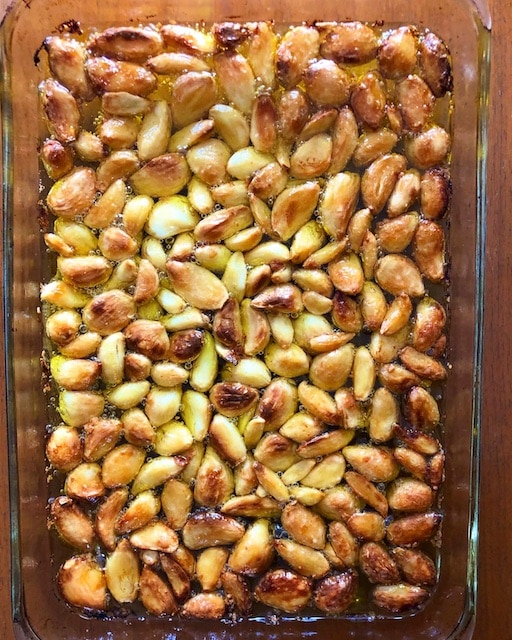 This is basically prepping a stunning ingredient that I'll refer to in future recipes.
Roasted garlic is fabulous and adds wonderful flavor to so many things, that I've learned to batch it, so I have some always at the ready to streamline for ongoing food preparation. You'll see that roasting the garlic is not hard to do, but you might as well just do it a couple times a year, instead of every time you want it.
You'll often see recipes that recommend roasting garlic in the skins, and I have found that method hit or miss and very messy. This method is no hassle, much more reliable, and efficient for larger quantities. As an additional plus, you get garlic flavored olive oil as a by product for other uses.
I buy already peeled garlic for this. They come in varying amounts. You'll choose how much you want to make of this. A small grocery container can be roasted and then kept in the refrigerator for use in a few weeks time. However, this Costco sized bag that I roast requires freezing to keep it fresh since there is so much of it.
If you wish to freeze the roasted garlic after roasting, I separate the cloves on a cookie sheet with parchment paper, and freeze them as separate cloves, before removing them frozen from the cookie sheet to a container. You can see my container of frozen roasted garlic below; it is easy to remove just as many as you wish to thaw and use.
After roasting the garlic, drain the garlic infused oil for fabulous use in cooking. See a photo of that below too; I have it on hand, labeled as such.
This garlic is particularly great in sauces, salad dressings, and soups. Make this, and you'll find plenty of ways to use them to delight your taste buds.
Roasted Garlic Recipe
(quantity of choice) of peeled garlic
olive oil enough to just cover it in a low baking pan with sides that just accommodates your garlic amount in one layer
Preheat the oven to 350ºF.
Bake 35 minutes until the garlic is lightly browned and soft as shown above.
Remove from oven and let cool to room temperature. With a slotted spoon remove the garlic and pour off the oil to be used separately. Put garlic in refrigerator to store for use within the month, or freeze as discussed above.
Enjoy!