Spaghetti Squash with Tilapia and Cashew Alfredo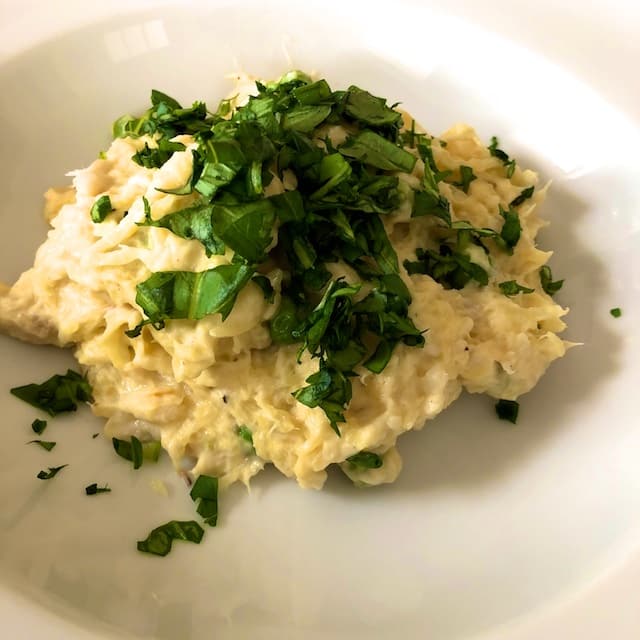 This is delicious, creamy and much lighter than your usual dairy-laden alfredo, with less than 1/4 the calories. This recipe is soul nourishing, subtly bland, comfort food, and the leftovers are just as good.
For this recipe, use your leftover Roasted Garlic from this recipe, thawed, if you've frozen them. If you don't have that, roast your garlic cloves, tossed lightly in olive oil, for twenty minutes of the time the spaghetti squash is in the oven.
Note that you will need to plan ahead to soak your cashews overnight to make sure your sauce is smooth. (If you forget, no worries, soak them in boiling water while your squash cooks and then drain.)
Chop only as much fresh basil as you are using in your current meal. Chop it again fresh when you warm up leftovers. When warming up leftovers, you may need to add a little extra broth, for the sauce may thicken in the refrigerator.
You could make this vegan by simply leaving out the fish.
This recipe makes 8 modest servings, as shown in the photos.
Spaghetti Squash with Tilapia and Cashew Alfredo Recipe
4 tilapia loins
1 spaghetti squash, halved and seed removed
a bit of olive oil
salt and pepper
3/4 cup peas, steamed
chopped fresh basil for garnish
For the Cashew Alfredo Sauce:
1.5 cups of raw cashews, soaked in water overnight and drained
1 cup veggie broth
8 cloves roasted garlic
2 Tablespoons nutritional yeast
2 Tablespoons fresh lemon juice
1.5 teaspoon salt
Preheat oven to 400ºF
Brush the spaghetti squash halves with olive oil, and season them with sea salt and freshly ground pepper. Roast for 45 minutes. Remove from the oven, then use a fork to gently scrape the squash out of the skins, separating it into strands or "spaghetti."
To make the cashew alfredo sauce, combine all ingredients in a high-speed blender, and blend until completely smooth.
Place an inch of water in the bottom of a wide skillet and poach the tilapia on medium high heat, flipping once the bottom half is cooked. When the tilapia is breaking apart, drain it, and place in a large bowl, breaking it into pieces.
Add the cashew alfredo sauce, the spaghetti squash, and the peas to the bowl, and mix well. Add a teaspoon of salt, or more as desired.
Warm as much as you'll serve immediately in a skillet over medium heat for a few minutes to make sure it is hot. Serve with plenty of chopped fresh basil as garnish.
Yum! Enjoy!