Cauliflower Soup with Toasted Pumpkin Seeds (Recipe)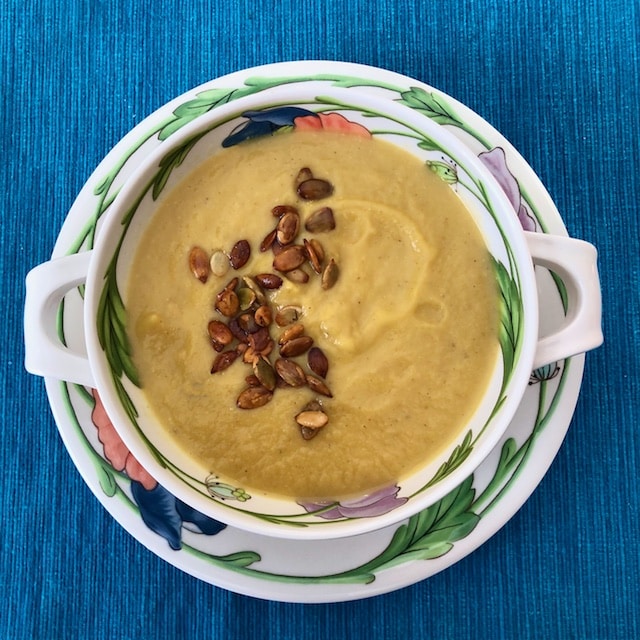 This is a simple, delicious soup you will be glad to have in your repertoire.
See how I roast garlic here in batches to freeze. Thaw your roasted garlic, if frozen.
Don't skip the pumpkin seeds, for the textural contrast makes this soup much more interesting to eat.
This soup makes six servings.
Cauliflower Soup with Toasted Pumpkin Seeds Recipe
Six cloves of roasted garlic, thawed
1 large head of cauliflower, chopped
2 Tablespoons olive oil (plus 1/2 teaspoon)
sea salt and freshly grated pepper
2 Tablespoons ghee
1 cup onion, chopped
1 cup carrots, chopped
2 celery stalks, chopped
4 cups vegetable broth
2 cups water
1 teaspoon fresh thyme leaves, chopped
1 bay leaf
2 Tablespoons raw, shelled pumpkin seeds
2 teaspoons white wine vinegar
Preheat oven to 425ºF
On a sheet pan combine cauliflower, two tablespoons of olive oil, 1/4 teaspoon of sea salt, and 1/8 teaspoon of pepper. Mix well until cauliflower is evenly coated. Roast for 30 minutes until tender and beginning to brown, flipping half way through.
Meanwhile, in a large stock pot, over medium heat, heat the ghee. Add the onion, carrots, and celery, and saute until soft, about 8 minutes. Add the broth, 2 cups water, thyme, and bay leaf. Cook until cauliflower is ready and then add that, along with the roasted garlic. Bring the soup to a boil, then reduce it to low and simmer for 20 minutes.
Meanwhile, in a small skillet, add the 1/2 teaspoon of olive oil over medium heat. Add the pumpkin seeds and season with salt and pepper. Toast the seeds until they begin to brown, between three and five minutes. Transfer to a plate and set aside to cool.
Remove the stock pot from the heat, and remove the bay leaf. Working in batches, ladle the soup into the blender, and blend on high until smooth. Add to a clean bowl and repeat until all is blended. Add the vinegar and stir. add 1 teaspoon of salt and pepper to taste, and stir.
Serve immediately, with some pumpkin seeds on top.
Yum! Enjoy.