Recipe: St. Patty's Day Soup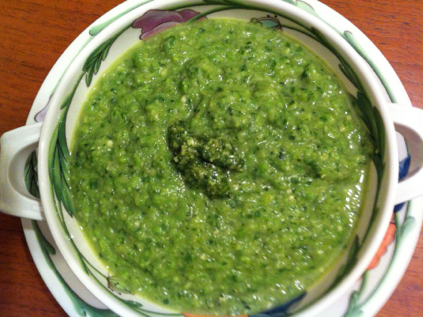 Happy St. Patrick's Day! This pea, pesto and arugula soup is good any day, not just perfect for March 17… In the winter this versatile soup is good served hot, in the summer it is good cold.
Arugula and Pesto Soup
A large handful of fresh basil leaves
1 garlic clove, peeled and roughly chopped
a few tablespoons of pine nuts
4 tablespoons of olive oil
1/2 cup grated Parmesan cheese
salt and pepper
1 tablespoon olive oil
1 small onion, peeled and roughly chopped
2 small zucchini, chopped
3 1/2 cups vegetable stock
1 (1 pound) package frozen peas
a large handful of arugula
Place the first 6 ingredients in a blender or food processor and whiz into a sauce.
In a large sauce pan, heat the olive oil and soften the onion. Add the zucchini, then pour in the stock and simmer on low for 8 to 10 minutes. Add the peas and arugula, bring back to a boil, and cook for another 3 or 4 minutes until the vegetables are tender.
Carefully in batches, blend the soup until it is a velvety puree. Serve with the pesto mixed in either uniformly or as a garnish. Serves 4-6.
Enjoy!