Recipe: Tuna Salad (No Mayo)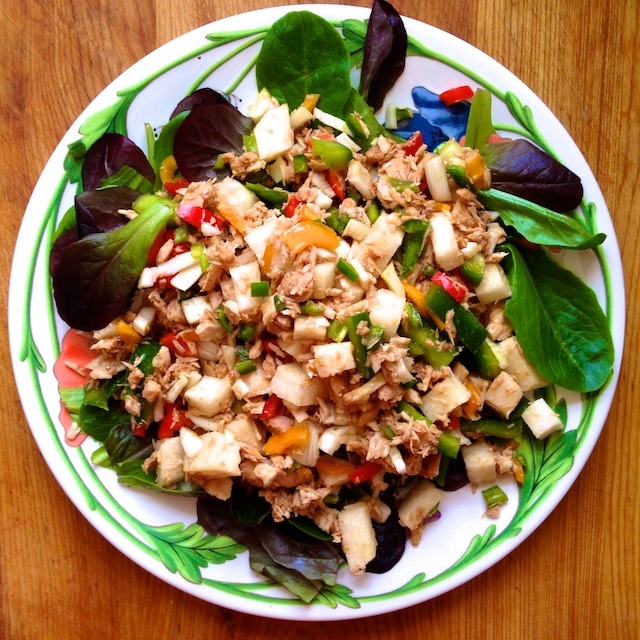 It seems like an April Fool's joke to make tuna salad without any mayo, but truly, there are people that prefer it that way!
So seriously, this is NOT your grandmother's tuna salad. Light and hearty at the same time, this no-oil salad is filling without being heavy. I use some fabulous lime flavored balsamic (see here) that we get from our farmer's market in this, but any balsamic you like would work here if you simply add a little more fresh squeezed lemon (or lime) juice to compensate.
This serves two to four depending on the size of the salad. My husband and I split it (as shown above) for a full meal without anything else being served.
We serve it on a bed of lettuce. If you are not going to use all of this at once, the mixture–before the lettuce is added–stores nicely in the refrigerator for next time.
Recipe: Tuna Salad (no mayo)
2 cans albacore tuna packed in water, drained and chopped
1 fennel bulb, core and fronds removed, sliced thinly and then chopped small
1 jalapino, seeds removed and diced
6 small sweet peppers, seeds removed and diced
1 bell pepper, seeds removed and chopped in larger pieces
1/2 large jicama, skin removed and chopped in larger pieces
2 tablespoons lime balsamic vinegar
2 tablespoons white wine vinegar
1/2 fresh squeezed lemon
1 teaspoon mustard
1 clove garlic, minced
1/2 teaspoon salt
lettuce of choice for serving
In a separate bowl, mixed the tuna, the fennel, jalapino, peppers, and jicama.
Make the dressing by mixing the balsamic vinegar with the white wine vinegar, lemon juice, mustard, garlic, and salt. Whisk to incorporate. Pour dressing on the tuna mixture and stir well.
Serve as much of the mixture as desired on beds of lettuce.
Enjoy!