Bits and Clips for March 2017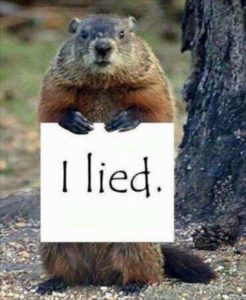 As March this year here was more wintery than either December or February, the above meme of the ground-hog seems funny and pertinent. For those in warmer climes, just know we still have snow in our yard…
This bits and clips post is a monthly feature on this blog highlighting the best that I read, heard or saw on the internet that month. I hope you find something in the links below that is interesting, thought provoking, helpful, inspiring, fun, or enlightening:
Art:
Face Done in String (video)
5 Strategies Successful Artists Follow to Thrive in Their Careers
Step into infinity with Yayoi Kusama (video)
Andreas Vanpoucke ' Writers, poets and musicians ' engravings
How Georgia O'Keeffe Styled Her Iconic Self-Image
11 Female Abstract Expressionists You Should Know, from Joan Mitchell to Alma Thomas
The Art of Illusion | Use the Magic of Edges in Your Painting
Liz Haywood-Sullivan Painting with Pastel
6th Annual Plein Air Convention and Expo
A man isolated himself in the Arctic for 20 years. What he reveals inside this cave is incredible.
Photography:
How the golden ratio manifests in nature
Spirituality:
The Healing Power of Mother Love
"The most famous, interesting and powerful woman in America"
Seeking and Finding (short podcast)
Mary Baker Eddy: Trailblazer for Women and Religion
Beyond Church Walls (short podcast)
Millennials haven't forgotten spirituality, they're just looking for new venues (video)
Ideas:
The value of striving for truth
The Seasons Aren't What They Used to Be
Why McCann Dropped a Statue of a 'Fearless Girl' Next to Wall Street's Charging Bull Overnight
Homeschooling in Connecticut: Field Trip Ideas
How Americans Think About Climate Change, in Six Maps
John Etchemendy: 'The threat from within'
Concrete House Printed with a 3D Printer in one Day (video)
How a Stranger's Comment Changed the Way I Parent
35 of the Best Places to Travel in 2017
Why Preschool Shouldn't Be Like School
New Editor at the Christian Science Monitor
Teacher to parents: About THAT kid (the one who hits, disrupts and influences YOUR kid)
Amazing Map Shows Every Tree in the United States
Political strains in West serve Putin goals (video)
How to Use the AmblesideOnline Website for Curriculum Purposes (Video Tutorial)
Dr Eric Thomas: You Owe You (video)
Travel Abroad, in Your Own Country
15 Bullet Journal Hacks That Are Going to Totally Transform Your Life
Not Leadership Material? Good. The World Needs Followers.
Could Urban Farms Be the Preschools of the Future?
Rachel Maddow Stopped Covering Trump's Tweets, And Her Ratings Soared
It's not just about jobs. Colleges must help students find their passions.
What's Missing From This Photo of Politicians Deciding the Future of Women's Health?
Girls Knit Their Way to a Math Career
Homeschooling is the smartest way to teach kids in the 21st century
No, big snowstorms like this aren't normal
Louis CK Everything Is Amazing And Nobody Is Happy (video)
Books:
Good for the Soul: Connecticut's 10 Best Bookstores
Ohio Bookstore Flips Male-Authored Books, Displaying Them Backwards
These are the most famous books set in each state
A Mother, Her Son, His Grandmother, and Their Lifelong Grief
20 Quotes From Children's Books Every Adult Should Know
Fifty years ago, a teenager wrote the best selling young adult novel of all time
Best Feminist Books for Young Readers
What to Read if you can't get enough of Victoria
'A Piece of the World' looks deep within the story of an iconic painting
Movies:
'To Walk Invisible' brings to life the Brontes and the genius forged on the moors
Food:
LEAD & CADMIUM FOUND IN CHOCOLATE – Is it in your favorite brand? Check here!
Poetry:
What if Each Day We Were a Poem?
Walking Thoughts: Why Bother Writing?
This Is a Poem That Heals Fish: An Almost Unbearably Wonderful Picture-Book About How Poetry Works Its Magic
and Hope:
This Machine Pulverizes Glass Bottles into Sand (video)
Art Meets Tech: Georgeous Solar-Powered Pipe Can Desalinate 1.5 Billion Gallons of Seawater
How a mother-daughter duo has helped inmates read with their kids