Green Curry Tilapia and Veggie Soup (Recipe)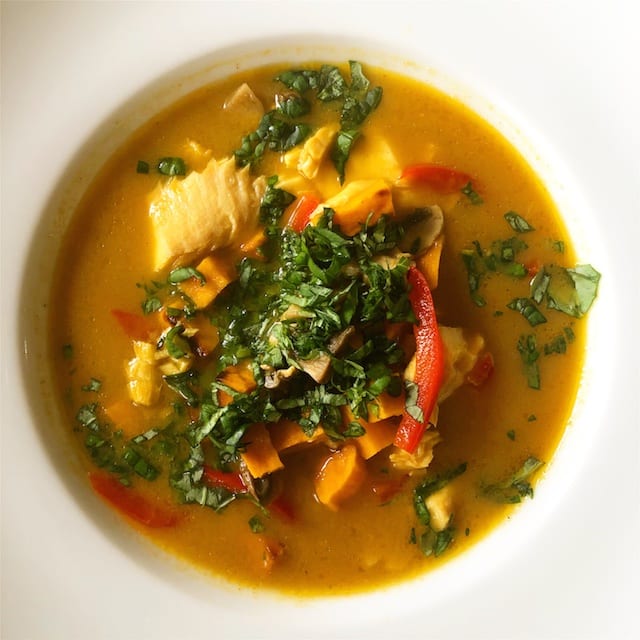 This soup is heartwarming and delicious. It is wonderfully flavorful without being spicy. It is easy to make too!
To make this vegan, just omit the fish. If you prefer to roast a different veggie for the soup than sweet potato, that would be fine too. Also if you wish, you could swap out chicken broth for the vegetable broth, and chicken for the tilapia. Also you can trade out coconut aminos for soy sauce, and if you are trying to be completely sugar free, you can omit the honey. That said, however, how it is stated below, is how I like it; it is really good.
This recipe makes six or eight servings, depending on size.
Green Curry Tilapia and Veggie Soup Recipe
2 medium sweet potatoes, peeled and cut into cubes
1 tablespoon olive oil
1/2 teaspoon of paprika
1/2 teaspoon salt
2 (32 oz) containers of vegetable stock
1 (15 oz) can full-fat coconut milk
1 (4 oz) jar green curry paste
2 inch piece of fresh ginger, peeled and very thinly sliced
2 Tablespoons of coconut aminos
2 Tablespoons honey
1 Tablespoon fish sauce
8 oz cremini mushrooms, wiped clean and sliced
1 red bell pepper, thinly sliced
4 tilapia loins (2.5 pounds)
1/2 cup fresh basil, chopped (for garnish)
Lime wedges for serving
Preheat oven to 425ºF
On a baking sheet toss the sweet potato chunks in the olive oil, paprika, and salt. Roast for 30 minutes.
In a soup pot over medium heat, combine the broth, coconut milk, green curry paste, ginger, coconut aminos, honey, and fish sauce. Stir to combine. Add the tilapia, mushrooms, bell pepper and bring to a boil, then lowering to a simmer for 10 minutes, until fish breaks apart. Add the sweet potatoes, and season if necessary (I don't).
Serve topped with the chopped basil and a squeeze of lime.
Yum! So good!