A Year of Pandemic Sequestering (New Poem by Polly Castor)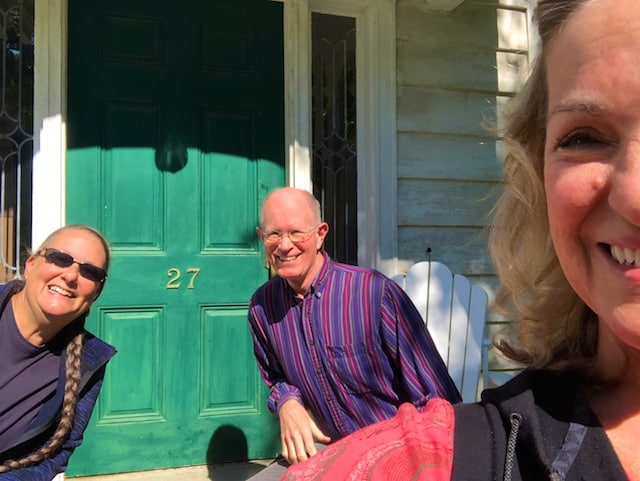 A Year of Pandemic Sequestering
A year ago we thought
we'd shut down for two weeks.
It was unprecedented,
but we complied,
wary, and unsure.
We did not know
how Covid spread.
I remember being
in the bathroom at church
just having washed my hands,
but then worrying about touching
the doorknob on the way out.
If even I was thinking that way,
I wondered what torture true
germ-a-phobes were going through.
We made our last grocery run
and hunkered down,
expecting to emerge
on the other side,
before needing more food.
Toilet paper, for some
unfathomable reason,
was hoarded,
and woe unto anyone who
really needed to buy any.
We talked of flattening the curve.
We learned how to use zoom.
Schools and places of worship
retrofitted on a dime.
We side-stepped our busy lives,
spending some needed time
in our separate abodes.
Working from home became common,
and no longer the misnomer
I'd defended in the past.
I wrote poems of liminality
and metamorphosis.
Trips were cancelled,
with or without refunds.
Plans were indefinitely suspended.
Proms and graduations
were called off or reimagined.
Tanks of gas could last for months.
The sky was noticeably less polluted.
People started baking bread,
particularly banana and sourdough.
People binge-watched
shows, movies, and series.
We also scrolled on our phones
worrying about the state
of the country and world.
We caught up on all sorts of things.
We started that long put off project,
began writing that memoir,
and finally cleaned out that closet.
We started hiking more,
since gyms were closed,
and we needed to get out.
The parking lots at parks
burgeoned beyond
what they could handle.
We made and bought masks,
choosing a style that didn't
hurt our ears or fog up our glasses.
Restaurants reopened
for take out and outside dining.
People lost jobs and some
businesses shuttered permanently.
Hospital beds filled beyond capacity.
Essential workers were both
overwhelmed and uncommonly cherished.
Summer was a quiet lull between waves,
less cooped up, but still
socially isolated.
We found work arounds.
Six feet apart was
better than six feet under.
We gathered outdoors,
around campfires in lawn chairs,
or chatted from porches,
open to the blessed air.
We met neighbors
we never knew before
by hanging outside more,
with everyone home, all of us
desperate to talk to anyone in person,
our walls of separation removed
by this common experience.
We entertained guests
at the far end of our picnic table.
We started understanding better
how the plague was transmitted.
Coming and going, we quarantined
in two week spurts.
We settled in for things
being different for a while.
People moved out of the cities.
Real estate surprisingly sold well.
We ordered things off the internet.
We patiently waited in line
outside stores for our turn
in the limited room within.
We voted by absentee ballot.
We had our holidays largely apart,
straining the postal service
who delivered presents late.
The introverts loved it;
the extroverts climbed the walls.
The happy marriages warmed and thrived;
the abusive ones finally burst apart.
The rich lined their pockets;
the poor scraped even lower.
People got stimulus checks,
and bought either essentials with it,
or digital pianos, or art materials,
or paid for home improvement work.
Weddings became elopements
or were drastically downsized.
College classes were both
taught and taken from bedrooms.
Fashion took a nose dive,
and comfort was supreme
as often only
head and shoulders were seen.
More books were read,
gardens tended, cooking done.
We are used to sequestering now,
a year later and counting,
in a groove rather than the
dull panic of those first two weeks.
The new normal is no more normal
than we now realize the old one was.
We all know people that have died
during or because of the pandemic,
without the dignity of proper funerals.
We can't even hug the grieving hearts.
We now know how interrelated we all are,
as we sink or swim together.
Finally, there is a vaccine,
which is widely discussed,
and gives hope to many,
while it is not quite over yet.
When will we emerge,
and safely gather indoors
in a crowd?
When again will we
so freely and closely
exchange huddled breaths
in unventilated spaces
without a thought or care?
When again will we feel
independent of group consciousness?
When again will we be so naive?
by Polly Castor
3/9/2021