Recipe: Tortilla Chip Casserole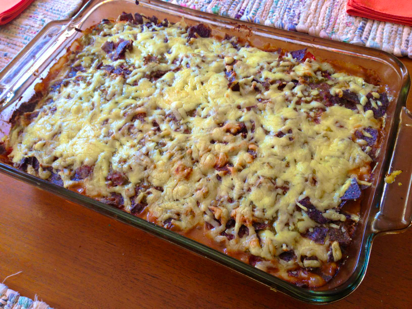 Here is what you do with the chip bits at the bottom of the bag. This is very delicious! It will quickly become a favorite and is easy to make too.
2 cups onion, chopped
1 tablespoon olive oil
2 large red bell peppers, seeded and chopped
2 jalapeños, seeded and chopped
1 1/2 cup fresh or frozen corn kernels
1 teaspoon ground cumin
1 teaspoon ground coriander
1 (15oz) can black beans (or other kind of bean if you prefer)
1 (15oz) can refried beans
1 teaspoon salt
1/2 teaspoon freshly ground pepper
4 cups organic tortilla corn chips, coarsely crumbled (we use blue ones)
2 cups your favorite Mexican style salsa (or if you use Salsa Verde, add a chopped fresh tomato as well)
2 cups sharp cheddar cheese, shredded
Preheat oven to 375˚F

In a large sauces pan on medium heat cook the onions in the oil, stirring occasionally until translucent, about 8 minutes. Add the red bell peppers and jalapeños and cook for 5 more minutes. Stir in the corn, cumin, coriander, both cans of beans, salt and pepper, and cook about 5 minutes.
To assemble the casserole in a 9 x 13 pan:
Spread 1/2 the tortilla chips in the bottom of the pan, and spoon the bean/vegetable mixture over that. Then spread 1/2 the salsa followed by 1/2 the cheese. Finish with the remaining tortilla chips, toped by the remaining salsa and the rest of the cheese.
Bake until bubbling and beginning to brown, about 30 minutes. Serve with avocado and sour cream.
Enjoy!