Book Review: Handling the Truth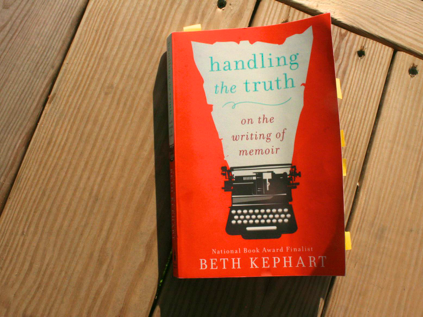 I enjoyed this book and found it gives a good introduction to writing in the genre of memoir. The author has written several memoirs and is a professor of the subject at University of Pennsylvania, so she knows what she's talking about. I really appreciated her fresh tone.
The book does bog down in places, like when she chases her tail on the subject of what tense to write in for a chapter when the take away is that there are no rules and one should do what works for them. The book does a great job of differentiating the writing form from autobiography and novel, and delineating some parameters on what to avoid doing.
My favorite part of the book is the her injunction that to write memoir, you must read it. I already do that, so I'm in a good position to tell you that the list of memoirs she recommends is a good one. It comprises the last fifty pages of this book, and even though it could easily have been one hundred pages long, it represents a great start in the genre. I think this list is why you want to buy the book.
Anyway, here are some highlights of bits in the book I found interesting:
• Memoir is a strut and a confession, a whisper in the ear, a scream.
• It's teaching now against then, and leave that out to put this in, and yes, maybe that happened, but what does it mean?
• You tell me good. You tell me why. Know your opinions and defend them.
• Memoirs… must transcend not just the category and the particulars of the story but also, ultimately, the author herself.
• 'I expect, in a well written piece, to be drawn in without my notice. I don't want awkwardly chosen words to fight for my attention. I want the attraction to feel effortless and instant, as if the writer doesn't even know she's being read. Or, even further: I want to imagine that a piece of writing is just an elegant, authorless, whole thought that had already existed before a writer nets it onto a page. Part of my fantasy is that the writer does not even care if the piece is read; this autonomous thing on the page is just fanning its wings and sunning itself, wholly innocent of me, the reader-voyeur. The writer is someone who has carelessly left a pair or glasses on the grass so that I can have a look.'
• Memoir making is a hazardous business. People are involved. Their feelings. Their reputations. Their relationships to you. Put somebody into a book you write, and you have changed –forever– the equation.
• Write with the understanding… that some lives or secrets do not belong to us.
• Do you know… how what you choose to see speaks of who you are?
• 'I guess I want awareness, a sense that the writer has reckoned with the self, the material, as well as what it means to reveal it, and how secrets are revealed, how stories are told, that it's not just being simply told. In short, it must make something of itself.'
• Time is the memoirist's salvation and sin. Time is the tease and the puzzle. Time is the trickster, the tormentor, the vexer. Time solved or resolved is memoir mostly mastered.
• …saying less is often more…
• What readers want is meaning. They want a story so rich, complex, thought through, and learned from that it can't, in fact, be revealed by a headline or two; it can't be satisfactorily summarized.
• No memoir is worth reading if it is not leavened with beauty and love.
• Weather, and how we both live and write it, must enter –should enter– into the memories we make and resurrect. … The range of a writer's weather vocabulary is a measure of the range of her perception.
• I want to know not just what you see but also how you see, in every line that you call memoir.
• Discretion in dialogue doesn't just make for more honest memoirs. It makes for better ones.
• What I want for all… writers of memoir. No posturing. No attitude. No working off history. No easy riding. No simple chapter two…. If you are not awake to the world, if you do not approach the work as if it is the first thing you've ever written or the last words you'll ever say, you have no business writing.
Check out this book– I give it four stars. And read a memoir, if you haven't already!