Book Review: The Elegance of the Hedgehog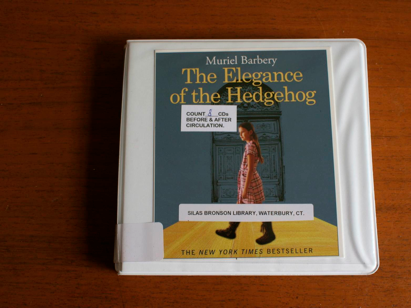 This is a wonderful book; it is the best novel I've read in quite a while. I give it five stars.
I enjoyed it on audio because it is told in two perfect voices, but I'm resolved to read it again in print because there are so many great bits that demand pondering and a plethora of fabulously turned phrases that deserve basking in. The vocabulary here is the broadest I've seen in any recent novel; this is written by a very literate (while down to earth) person! I could have highlighted fifteen words I've never heard or uttered, but in context, I understood them all. If I had read it in text, this post would have been monstrously long as I'd have thought it necessary to share copious fabulous bits with you. This way, alas, you will be required to read the book and find them for yourself…
This is mostly an intellectual romp into philosophy, music, literature, sociology and art, thinly veiled as a compelling, metaphoric story. You care about the characters because you come to respect and cherish their thoughts. And these thoughts range over a huge fascinating spectrum, which is always changing, in such a way that it never lags, but propels you forward to the next succulent bit.
This is a story set in Paris about two unlikely autodidacts who notice life's beauty and contemplate its meaning. It helps, maybe, being a life-long learner yourself (which I definitely am) to appreciate their trajectory, but even if not, I suspect this gem of a book might inspire one to want to be, as it portrays the love of learning, and the sharing of that, as one important thing that makes life worthwhile. (I'd say love is the other!)
Anyway, you can read more about the plot in the book jacket below, but I don't think that description captures how unique and precious this book is. It is for thinkers and feelers everywhere who are willing to consider ideas larger than themselves. In other words, I think you might like it!