Confucius Says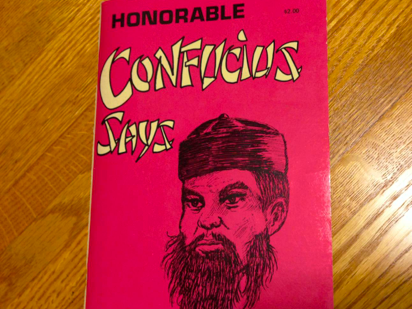 I've just spent the weekend diligently cleaning my office and I found this 1977 $2.00 volume of sayings by Confucius. I couldn't resist sharing some of these with you (although I skipped the copious funny ones about husbands and wives…) He was considered radical and dangerous in his day:
• "Teachers open the door … you enter by yourself."
• "If you always give, you will always have."
• "If the first words fail, ten thousand will not avail."
• "To lock up mischief shut your mouth."
• "Too often great politeness means: I want something."
• "Always be happy. When the kettle is up to its neck in hot water, it still continues to sing."
• "The secret of happiness is to learn to accept the impossible, do without the indispensable, and bear the intolerable."
• "A woman's beauty lasts as long as her disposition stays sweet."
• "Never miss an opportunity to make others happy, even if you have to leave them alone to do it."
• "A lot of happiness is overlooked because it doesn't cost anything."
• "The more you work for it, the less you look for it, the quicker happiness comes. You don't have to go out and look for happiness. Keep busy and it will find you without any trouble."
• "Happiness is midway between too much and too little."
• "Happiness is one thing that multiplies by division."
• "Kindness in words creates confidence; kindness in thinking creates profoundness; kindness in giving creates loves."
• "Many who are ahead of their time have to wait for it in uncomfortable quarters."
• "Three early risings make an extra day.
• "Never try to catch two frogs with one hand."
• "You want no one to know it? Then don't do it."
• "Patience and a mulberry leaf become a silk gown."
• "Looking at small advantages prevents great affairs from being accomplished."
• "Talk does not cook rice."
• "He who speaks without modesty will find it difficult to make his words good."
• "Ever notice how taxes are like rosebushes? The more they are pruned, the higher they grow."
• "Study widely and hold fast to purpose, inquire earnestly and continue to think – therein lies contentment."
• "Let mourning stop when one's grief is fully expressed."
• "To over do things is as bad as to fall short."
• "Do not worry about not being in office; worry about qualifying yourself for office. Do not worry that no one knows you, but seek to be worthy of being known."
• "Everything has its beauty but not everyone sees it."
• "They must often change who would be constant in happiness or wisdom."
• "All men are born good."
• "Heaven means to be one with God."
• "What the superior man seeks is in himself; what the small man seeks is in others."
• "People may be forced to follow, but not to understand."
• "Virtue is to love men. And wisdom is to understand men."
• "Virtue is not left to stand alone. He who practices it will have neighbors."
• "Is there one word which may serve as a rule of practice for all of one's life? The master said, Is not reciprocity such a word? What you do not want done to yourself, do not do to others."
• "The truly virtuous man, desiring to establish himself, seeks to establish others; desiring success for himself, he strives to help others succeed. To find in the wishes of one's own heart the principle for this conduct toward others is the method of true virtue."
• "The measure of a man's life is not how long but how good?"