On My Way to Little Cranberry Island for a Painting Workshop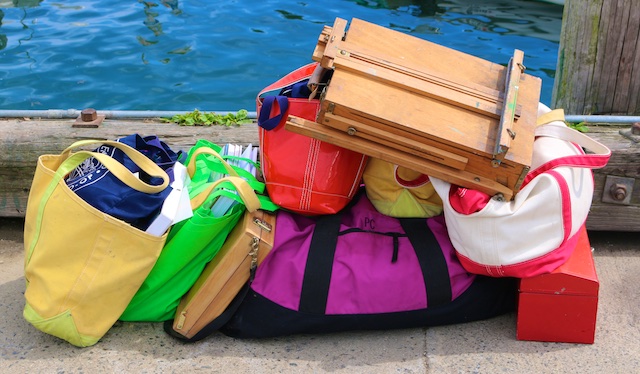 I was so delighted to squeeze in at the last minute into Henry Isaacs and Ashley Bryan's last Painting Workshop. Their workshop is something I have always wanted to do, but it wouldn't have happened this year unless we unexpectedly stayed at a friend's cabin last July on Mount Desert Island.
Back in 2013, I had featured Henry Isaacs on my blog. He had been pleased with my enthusiasm for his work, and invited me out to visit him in his studio if I was ever in the area. So last July I called him, and instead of having us come out to Little Cranberry Island, he invited us to his show that was opening near us in a couple days time.
We went to his show in Northeast harbor, and you can see some of his work from that show here. Knowing I had long drooled at the thought of coming to his workshop, he encouraged me to put my name on the waitlist, and he would see about squeezing me in, especially since it was to be their very last one.
I was pretty sure this was a long shot, but as I was leaving Creative Arts Camp, a miracle occurred, and I got a call that they were offering me a spot. I returned home from camp in Maine to scramble around–working hard– to be able to head back to Maine for this superlative privilege on Labor Day Weekend. Gratefully, lodging with friends in Maine both before and after this workshop came together seamlessly, and I'm really grateful for that too, as it broke up my nine hour drive, which did not include the time for the ferry.
The photos in this blog are from my ferry trip to the island, and my arriving on the island on Labor Day. The class started at dinnertime, on the other side of the moss covered wall shown in the bottom photo. I stayed in the yellow house shown, known as the Colonel's house, in one of its nine bedrooms; my room was on the front facing the water on the left side as you look at the house from the outside. The people shown on the ferry (also known as the mailboat) had done this class before, and between the two of them, had far less luggage than I did. I brought both my pastels and my oils, and I was glad that I did.
I enjoyed the vistas shown here that day, but not as much as I should have, given that then I didn't know we'd be painting in fog, and wouldn't have such visibility again during our visit. I then sat on the dock waiting for the time for the event to begin; I took pictures, talked on the phone catching up on our daughter's copious adventures, and of our son moving into an apartment in D.C.– glad too to have the cell phone service there, where I wasn't sure I would have.
I didn't know what to expect out of this workshop, but ended up having a wonderful time, as you will end up seeing over the next several days, as I am exploding with content to share will you all.