Book Review: Spy in a Little Black Dress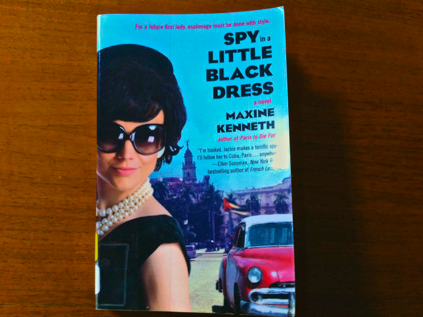 This book was a pleasant surprise.  I found it on the library's new book shelf, and didn't expect to like it as well as I did.  
It is the second in a series and you may wish to begin with the first, titled Paris to Die For, which turns out to be well liked too. I'll probably get around to reading the first one also, but I didn't feel handicapped reading this one without having already read the previous one.
Apparently there are some letters actually linking Jacqueline Kennedy to a job at the CIA, and this little tidbit was the springboard for this series.  These first two books take place before Jackie was married; her first date with JFK occurs in this second book.  
This book chronicles Jackie's undercover assignment in Cuba meeting Fidel Castro.  While this is invented fiction, care has been taken to get historical facts and settings correct.  All the details were interesting, Jackie is depicted as a wonderfully intelligent, gutsy and resourceful person that is truly likable, and there is enough action to make it seem like a screenplay. 
These books are co-authored by two authors whose first names are Maxine and Kenneth, so they use the pseudonym Maxine Kenneth.  Between them they are well informed about style, movies, and key figures in this time period.  This book's balance between energetic activity and character development was most likely born out of the balance in this partnership of writers.
If you are looking for a summer beach read, I recommend this one.  It is amusing entertainment that is a refreshingly different and brings a little insight into historical characters as well. I give this light romp of a book 4 stars.