Recipe: Crustless Leek and Gruyere Quiche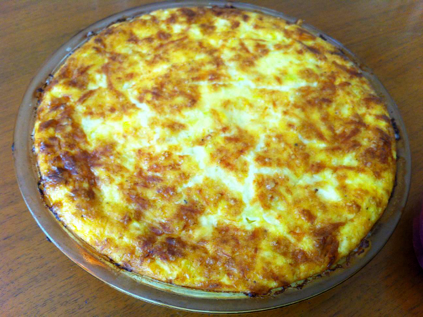 This recipe couldn't be more easy. The result is very custardy in texture, and the leftovers taste just as good it does fresh from the oven.
Leek and Gruyere Quiche
4-6 leeks, chopped, white part only
1 tablespoon olive oil
1/2 teaspoon salt
6 large eggs
2 1/2 cups whole milk
1 tablespoon of cornstarch dissolved in a bit of the milk
1/4 teaspoon coarsely ground pepper
1 cup of shredded Gruyere cheese (4 oz)
Preheat the oven to 350 and grease a 10-inch quiche dish or a 9 1/2 inch deep-dish pie plate.
In a skillet over medium heat, cook oil, chopped leeks, and half the salt. Cook until browned, about 10 minutes.  Transfer leeks to bottom of prepared pan, and spread them out evenly.
Whisk the eggs, milk, dissolved cornstarch, remaining salt, and pepper until well blended.
Pour egg mixture over the leeks in the dish. Sprinkle with the cheese.
Bake for 30-35 minutes or until a knife inserted in the center comes out clean.
Cool for five minutes or so before cutting.
Enjoy!