Recipe: Tomato Tart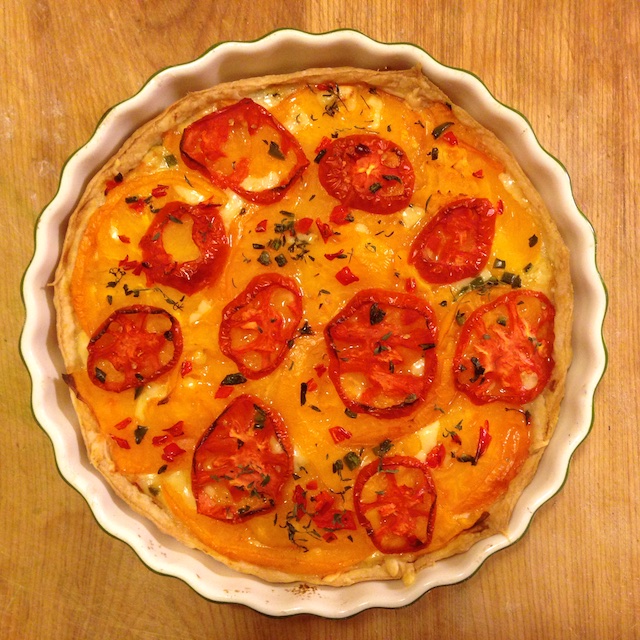 This is amazingly good, and remarkably straight-forward to put together. We made it with the last of the homegrown tomatoes from the yard. We used both yellow and red tomatoes, which made it especially pretty, but any color will suffice. If you are not a vegetarian, a bit of cooked bacon crumbled on this would not go amiss either. We used a nine inch tart pan, but if you don't have a tart pan, a pie plate would work as well. This makes four slices, or eight tiny ones.
Preheat the oven to 400ºF.
For the crust:
3/4 cup flour
1/4 cup cold butter, cubed
1/3 cup ice water, less 1 Tbsp
1/8 tsp salt
Cut the butter into the flour with a pastry blender or food processor until it resembles breadcrumbs. Transfer to a mixing bowl. Add the water until just blended. Make into a ball and roll out on a floured board to the size of a 9 inch tart pan.You may need to add additional flour as you roll it to keep it from sticking to the board and rolling pin. Transfer rolled out dough to the pan and trim even with the top of the pan.
For the filling:
3 medium tomatoes
1 Tbsp Dijon mustard
1 1/2 cups shredded Gruyere cheese
1/2 kosher salt
1 teaspoon minced fresh thyme leaves
1 jalapeno pepper, seeds removed and minced
Cut the tomatoes into 1/4 in thick rounds, removing the seeds as best as you can. Place the tomato slices gently between pieces of paper towel and gently squeeze out as much of their moisture as possible. The dryer you can get the tomatoes the better.
Spread the mustard over the dough in the bottom of the pan, and then distribute the cheese over that. Arrange the tomatoes so they are only slightly overlapping.Sprinkle with the salt, the jalapeño pepper, and the thyme.
Bake in the preheated oven until the crust is golden brown, the cheese is melted, and the tomatoes look slightly shriveled, about 35 -40 minutes. Let cool for a couple minutes before cutting to serve warm.
Wow. Isn't that delicious? Enjoy!