Kashmiri Chili Sauce (Low Heat but Flavorful Recipe)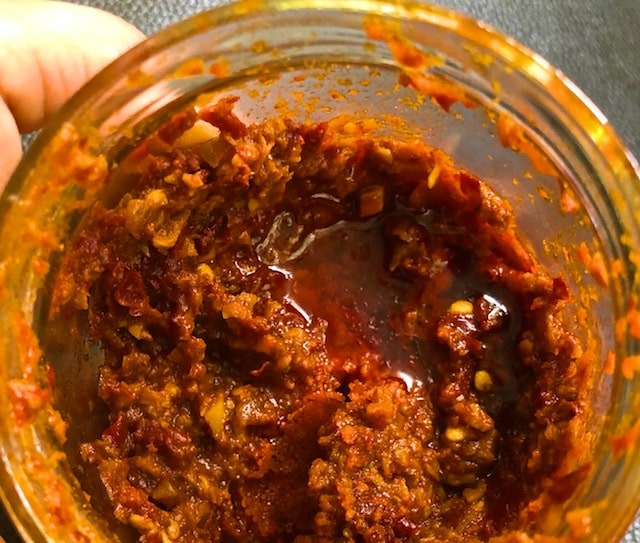 This is absolutely delicious– savoriness at its best.
This is a sauce served with Chinese food in India. It goes great with all sorts of things. We've put it on our salmon burgers, and our favorite way to use this sauce is on socca (which I'll blog tomorrow). It is also good on eggs or on other sources of protein.
Kashmiri chillies are mind and not hot. To really reduce the heat, remove all the seeds. I like this with about half the seeds included. I've looked for Kashmiri chillies for quite a while, wanting to try them since they are notoriously full of flavor without being hot, and finally I just ordered some from the internet (see here). The package that came was large, but then this uses a lot, and we'll totally be making this on repeat so that works out great.
Since so many garlic cloves and knobs of ginger are different, I went with weights here.
This recipe make three cups of sauce.
Kashmiri Chili Sauce Recipe
1 1/2 oz dried whole Kashmiri chillies, stalks removed and discarded
1 cup boiling water
2 Tablespoon minced shallot or red onion
1/3 cup avocado oil
3 1/4 oz garlic, peeled and minced
2 1/4 oz fresh ginger , peeled and minced
1/4 cup tomato paste
1/3 cup cider vinegar
2 Tablespoons soy sauce or coconut aminos
1/2 teaspoon sugar
sea salt
Place the chillies in a bowl and cover with boiling water. Submerge the chillies and let them stand 30 minutes to moisten and rehydrate.
Remove the chillies and transfer them to a food processor or blender with half the soaking water (saving the other half). Pulse a few times until a paste forms.
Heat oil in a medium saucepan over medium heat. When oil is hot, add the chili paste and cook, stirring constantly, for 1 minute. Add the shallot (or red onion) and cook for 1 minute. Add the garlic, ginger, and tomato paste and cook for 2 minutes. Lower the heat to a simmer and add the vinegar, soy sauce, sugar and reserved water. Cover the pan, and cook, stirring occasionally, for 25 minutes. The ginger should be fully cooked, the water cooked off, and the oil starting to separate. Taste and season with salt.
Enjoy on all sorts of things. Keeps in the refrigerator for up to a month.