Socca Four Ways (Recipe)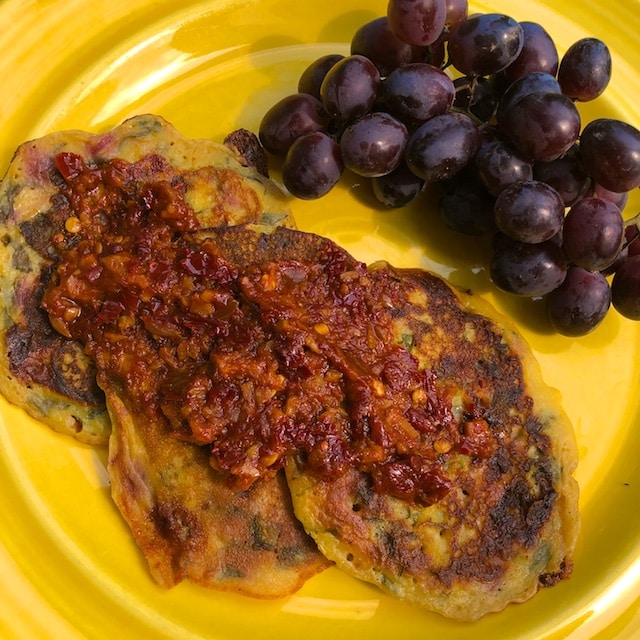 Socca is a traditional Mediterranean flatbread or veggie stuffed pancake that is naturally gluten free, made with chickpea (garbanzo) flour. Always looking to include more veggies, I've chosen to pursue them as the later.
These are savory, and I like them better for lunch or dinner, rather than breakfast. They are very different than a stack of sweet pancakes, but they are groan-worthy good, especially when served with the Kashmiri Chili Sauce I posted yesterday.
You can basically put in whatever veggies/cheese you want. I include here four mixtures that work beautifully.  If you don't have buttermilk, plain yogurt thinned out with a little water to that consistency will work just fine.
These are best right off the griddle, and warmed up they don't quite cut it. However, you can keep the batter in the fridge for a couple of days for leftovers just fine, cooking up just what you are ready to eat each time. You could also make them ahead, and be all ready to go for company.
Makes 12 pancakes.
Basic Socca Mix
1 1/2 cups chickpea flour
2 eggs
1 1/2 cup buttermilk
3 tablespoons ghee (plus more for griddle)
3/4 teaspoon salt
Combine the above in a large bowl.
Add the veggie/cheese mixture of choice (see below) and whisk until incorporated and batter is smooth.
Allow to sit 10-15 for the flour to hydrate.
Drizzle a small amount of ghee onto a non-stick griddle. When hot, add dollops of batter onto the pan with room between them. Spread each dollop into a pancake shape and cook until brown, about 3 or 4 minutes per side.
Transfer to plates and serve warm, with Kashmiri Chili Sauce.
Add ins for Jalapeno-Cheddar Socca:
2 carrots, peeled and grated
2/3 cup spinach, chopped
1 jalapeno, stemmed and chopped
1/4 cup cheddar cheese, grated
Add ins for Beet and Feta Socca:
1 cup raw beets, peeled and grated
1/3 cup feta cheese, crumbled
Add ins for Summer Veggie Socca:
3/4 cup zucchini, grated
1/2 cup of tomatoes, chopped
1/4 cup gruyere cheese, grated
Add ins for Broccoli Cheddar Socca:
3/4 cup broccoli, finely chopped
1/2 cup cheddar cheese, grated
Enjoy!