Book Review: Their Eyes Were Watching God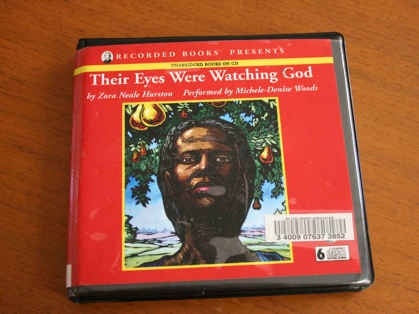 This book was a masterpiece.  I give it five stars even though when I tried to read it in print a long while back I gave it up as impossible due to all the colloquial language.  Listening to it on CD in the car was the ticket for me.  The voice-over for this text was brilliant and genuine and soon all the "ain't got none" and "gowan" (go on) etc, were natural and you could focus on the story. 
And don't think for a moment that an author that uses that kind of dialogue doesn't have an impressive vocabulary or a luminous turn of phrase!  This book is a classic for more reason than just that Alice Walker resurrected it. Janey and Teacake and Joe Starks are vivid, memorable characters that stimulate understanding.
Insights like the "good black folks" are the ones a white man knows while the "good-for-nothin niggers" are the ones he doesn't know, unfortunately ring true.  Revelations — like the whites getting caskets after the hurricane, when the blacks did not — are shared as facts without comment. 
Fortunately, this is not a book about how the white man has denigrated the Negro. It is a book about black people among themselves.  As a white myself, it was a great glimpse into a black woman's world, but soon it became any woman's world, which is what makes it such a profound classic. 
After Obama's inaugural, I had resolved to better understand the American black journey and listening to this book was my first step, and a wonderful choice toward that end.