Movie Review: The Eagle Huntress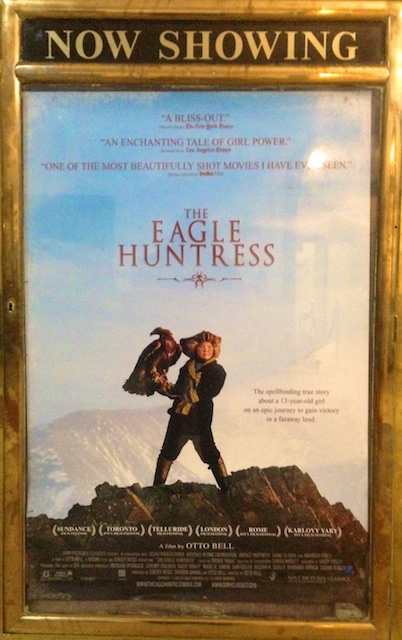 Last night we saw The Eagle Huntress (2016) at the local $3.00 theater. It is a documentary of the first ever female eagle huntress to compete in the eagle festival on the Mongolian steepe. She is only 13, and has captured and raised her own eaglet, which is not easy to do. The photography of the beautiful bird as well as the breath-taking landscape are worth seeing this film for.
Those who read and liked the book I reviewed last year, H is for Hawk, might be particularly interested in this movie. That book made me appreciate the accomplishment of this girl in the movie all the more, even though she had the advantage of having been raised around these birds without fear of them, and with a good, experienced teacher in her father. She still exhibited remarkable strength and stamina and focus and courage, especially for one so young.
This is a bare bones, simple film about a culture so very different from our own that I found every instant of it fascinating. You might too. Even on the farthest reaches of the earth, girls are breaking glass ceilings, which I applaud. I give this movie 4 stars.