Bits and Clips for February 2017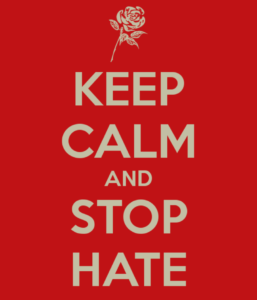 This is a monthly feature of the best that I read, saw, or heard on the internet this month.
And although this list is rooted and grounded in my perspective, please know that I am respectful of views that are different from mine as well. I share here my own perspective without reservation, because I believe in authenticity and transparency, as well as mutual respect. Still, I know that differing perspectives are often equally important, and that every stripe is desperately needed right now! Please know you are loved even if we disagree.
So even though some of this is quite challenging, I hope you find something here that is interesting, thought provoking, helpful, encouraging, motivating or inspiring. Check out these links below:
Art:
How I Became 100 Artists (TED Talk video)
Streams by Joan Levy Hepburn (video)
Museum removes every piece of art created by immigrants
Bringing Beauty Back: A National Exhibition
Edmonia Lewis chiseled a path for minorities into the art world
Photography:
Yellowstone Forever Photo Contest (video slide show)
Spirituality:
When Faced with Anger, Choose Love
Why we need more "spiritual geniuses," according to public radio host Krista Tippett
The Provocative Faith of Lady Gaga
59 Percent of Millennials Raised in a Church Have Dropped Out—And They're Trying to Tell Us Why
Pope suggests it's better to be an atheist than a bad Christian
Ideas (Other):
March for Science Has Set it's Date: Earth Day
Valentine Crafts for a Snowy Day
10 Ways to Search Google for Information That 96% of People Don't Know About
Grande Lattes, Treason, and the Universal Sign for Empathy
Spread Love and Understanding instead of putting People in Boxes (video)
A Pediatrician Just Laid Out How to Protect Your Child From Sexual Abuse—And She's Begging You to Listen
It Seems to Me: What young women may not know
All six of America's 2016 Nobel Prize winners are immigrants
Opening Your Car Door Like the Dutch Do Can Save Cyclists' Lives
A mathematician has created a teaching method that's proving there's no such thing as a bad math student
The fight against fake news is putting librarians on the front line – and they say they're ready
Oprah Winfrey Joining 60 Minutes as a Special Contributor
The Real Problem with Hypocrisy 
4 Problematic Statements White People Make About Race — and What to Say Instead
Meet 12 Badass Scientists…Who Also Happen to be Women
11 Quotes from Difference Makers
Ideas
(Political):
Why Nobody Cares the President is Lying
To Obama with Love, and Hate, and Desperation
It's Time We Stop Calling Donald Trump a Christian
Mr. President: 'Just who the hell do you think you are?'
I was a Muslim in Trump's White House
Surge in Young Women Planning to Run for Office
Fox New's Shep Smith "goes all in on" Trump (video)
"The Environmental Protection Agency will Terminate on December 31, 2018"
'Nevertheless, She Persisted' and the Age of the Weaponized Meme
Do These 10 Things, And Trump Will Be Toast
A blueprint for resistance to Trump has emerged. Here's what it looks like.
This is Where I Stand: I will not Work Together
Women's March organizers announce date for general strike
Don't Burn Out or Numb Out: On Pacing Myself for Long-Haul Resistance
Books:
'A Hope More Powerful Than the Sea' is the stunning tale of a Syrian refugee
Bookstore Recommends Romantic Reads For Valentine's Day
Maine author-illustrator Ashley Bryan named a 2017 Newberry honoree
Movies:
Watch full film for a limited time: Maya Angelou: Still I Rise
Blind Vaysha: a recommended short
Food:
Bright, lively, springlike: Pan-seared salmon with parsley lemon sauce
10 Ideas on How to Use Fresh Turmeric Root in Cooking
Recipe: Ina's Outrageous Brownies (video)
Poetry:
Snow in the Suburbs (a Thomas Hardy Poem)
Hope:
Sweden's Recycling is so Revolutionary They Have Run Out of Trash
Scientists may have cracked the code of metallic hydrogen
Flower Solar Power Produces a lot of Energy
Almost all girls were cut in her Ethiopian village. Not anymore, thanks to her.
The Gates Foundation Plans To Give Birth Control To 120 Million Women Worldwide By 2020
Massachusetts' 100% Clean Energy Bill
Stephen Colbert shocks South Carolina schools by funding every single teacher-requested grant