Persistence Alone Wins the Prize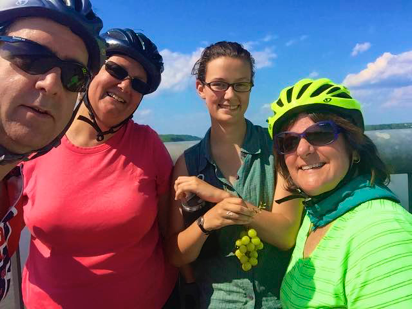 The quality of Spirit I've been working on this past month is persistence. I picked it because for the first time in my work as a Christian Science practitioner, I have a client I have been working with consistently for over two years, which has never happened before in the eighteen years I have been doing this. Progress of course is being made but unflagging persistence is required, so I thought a focus on this topic might help.
When I think of persistence, I think of the slow erosion of stone, or the prolonged build up of stalactites and stalagmites, over long years of seemingly inconsequential but protracted dripping. Little consistent bits can make a big difference. And how many cautionary tales have we heard, when the person gave up without knowing that they were so very close to their long-sought goal?
Mary Baker Eddy, the founder of Christian Science, has a quote that I have always appreciated, "Persistence alone wins the prize." This is what I've stuck with this month and it is amazing how many places it applies!
Our youngest is finishing her senior year of high school and after completing her college Calculus II class (100% on the final and an A in the course –calling it "fun!") and her AP Physics class (another A), she is down to finishing up all the miscellaneous stuff she has avoided over her whole time of homeschooling high school. For her, this mostly amounts to dreaded Social Studies, and persistence on her part is definitely required. Thankfully, she seems focused on actually getting it done, and so far is holding "senioritus" at bay. She has a big perk coming when she finishes, as we then head off on a cross-country odyssey together. Often when you really feel like slacking off is when you just need to push in a hard press for the finish line.
I have slowly been working on a redesign of this website over the last couple years, having to migrate by hand every blog post, including dragging and dropping anew every photo. That is 6.5 years of everyday posts, which means around 2,300 blog entries transferred to the new website, all for the luxury of a search function that we all want so very much. The new website will also feature a gallery where prints of artwork and photography will be available, and even originals can be purchased, so this has also necessitated going through all my photos and artwork to establish that as well. Doing this has been a long, laborious slog. Persistence has been required, and we are hoping for a launch before the end of the month, although there is scads of more work to be done before that happens.
Like our daughter and her work, I now just want to get this website done, and get to life after its completion. This brings to mind another quote by Mrs. Eddy, "When the destination is desirable, expectation speeds our progress." I fully not only expect completion on all these projects, I even more anticipate wild jubilation at their final accomplishment!
Yesterday, as you can see in the photos in this post, our youngest daughter and I joined together with friends for a 30 mile bike ride on the Duchess Rail Trail that goes over the Hudson River. It was a delightful day, and while I did not find it particularly difficult, during the last five miles my persistence project did come to mind. You can go a long way, one petal push at a time. Sometimes it is enough to just concentrate on the next push of the petal, letting them naturally integrate into miles covered. Maybe it was easy for me because I was not focusing on how far I was trying to go, just on the beauty around me, as well as joy and gratitude in the momentary experience. Progress and distance covered were a natural result.
As we persist to completion on these projects, I think of Paul's statement in the Bible, "I press toward the mark for the high calling of God in Christ Jesus." Paul also cautions us, "Let us not be weary in well-doing: for in due season we shall reap if we faint not." We will get there, even if a lot of little incremental steps are required!